Religious education is a lifelong process that guides people into 'intimacy with Jesus Christ'
Religious education is more than formal instruction; it is a conscious pathway to the development of the whole person as a model of Christ and permeates all facets of life in a Catholic community. Its foundations are laid in the home and built in partnership within the parish community. The Catholic school is an entrusted participant in this collaboration.
For this reason, schools of the Parramatta Diocese ensure that they:
| | | |
| --- | --- | --- |
| | | Are truly Catholic in their identity and life |
| | | |
| --- | --- | --- |
| | | Are centres of the 'New Evangelisation' |
| | | |
| --- | --- | --- |
| | | Enable our students to achieve high levels of 'Catholic religious literacy' |
| | | |
| --- | --- | --- |
| | | Are led and staffed by people who will contribute to these goals |
New curriculum to connect faith, learning and life
Connecting with the Catholic faith and traditions in a meaningful way enriches students' lives. That's why we're listening to students, their families and teachers to ensure that the way we support learning and teaching in a brand new religious education meets their needs.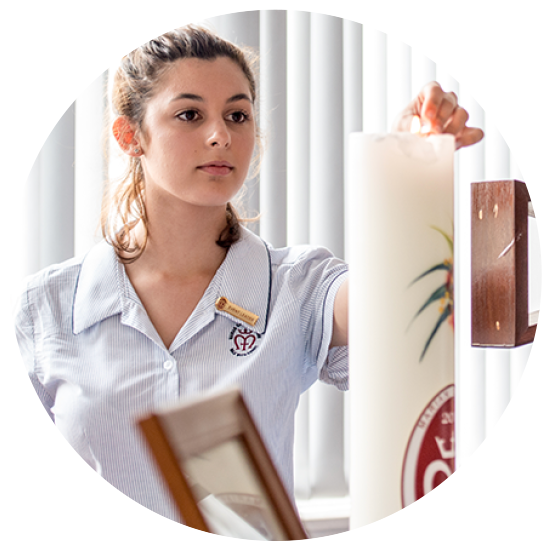 Finding purpose and meaning
It is acknowledged that throughout life, people learn and grow as they try to make sense of their lives, searching for purpose, meaning and happiness. Given that the answer to all human longing is Christ, the Catholic school therefore, plays an important part in this lifelong relationship with Christ. Its first contribution to the students' religious education is through the culture and climate of school life - the way people treat each other, interaction with the parish, the religious symbols and celebrations, school prayer, the people and activities that are especially praised and valued, and the values inherent within the school.
Learn about our Catholic Tradition
This religious dimension is present everywhere in the school
It is in the playground, the assemblies and the classrooms themselves where every subject contributes to a genuinely religious way of understanding the world. Meaningful prayer and liturgy as well as participation in the Sacraments, nurture and give expression to the religious dimension of school life in the context of the Church's celebration of the liturgical year.
Within the formal curriculum, 'Religious Education is given priority with regard to the school curriculum, time and space allocation and the choice and recognition of staff' (Catholic Schools at a Crossroads pg 14). Within the Parramatta Diocese it is a course of formal study that commences in Kindergarten and continues until the end of Year 12.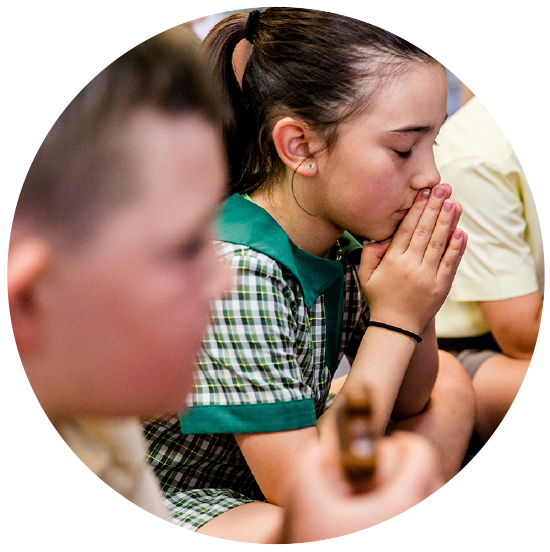 Classroom-based Religious Education is just as demanding as every other subject. It has its own syllabus and it uses the most effective methods including group work, research, critical thinking, problem-solving, appropriate use of memorisation, display, and dramatic presentation.
Teachers help their students to develop specific knowledge, understanding, skills, values and attitudes. However the Catholic educator is more than the imparter of content-based knowledge, they are to be transparent witnesses to Christ and to the beauty of the gospel.
A powerful partnership
It is within the family that each person's religious sensitivities are first called to life. Love, trust, wonder, reassurance, belonging, gratitude, a growing sense of responsibility and commitment – all of these set the foundations for a religious education that will, hopefully, continue throughout life. - extract from Sharing Our Story Core Document p.31
The Catholic school is in an essential partnership with home and parish. It is in the home that children first encounter religious concepts. They encounter God in the loving relationships of home life, in what is said and celebrated, and in the way everyday life is experienced. Children discover a much larger 'family' in their local parish where they can become part of a community in which people worship, express certain beliefs and values, and try to live their lives in a particular way. In an increasingly secularised world where children are bombarded with mixed messages regarding values and beliefs, sharing a common understanding of the mission of the Church is paramount to the expression of an ongoing faith development.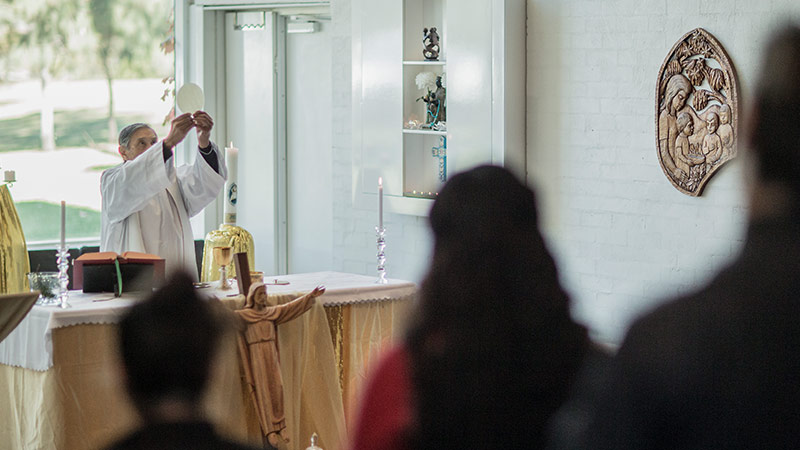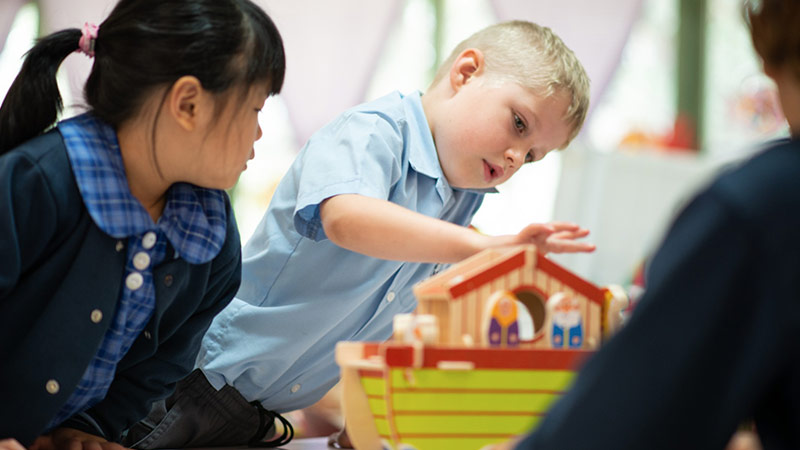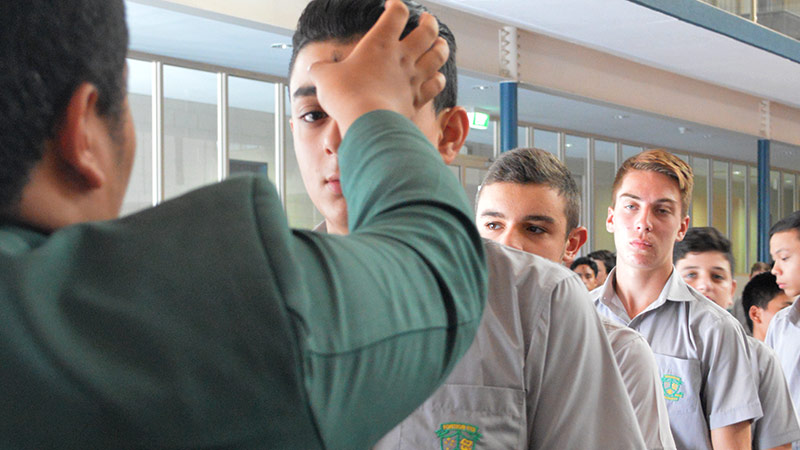 What is taught in Religious Education?
The syllabus itself has a number of strands or content areas:
| | | |
| --- | --- | --- |
| | | God |
| | | |
| --- | --- | --- |
| | | Jesus |
| | | |
| --- | --- | --- |
| | | Church |
| | | |
| --- | --- | --- |
| | | Prayer |
| | | |
| --- | --- | --- |
| | | Sacraments |
| | | |
| --- | --- | --- |
| | | Scripture |
| | | |
| --- | --- | --- |
| | | Christian Life |
| | | |
| --- | --- | --- |
| | | Religion and Society* |
*For secondary classes there is an additional strand called Religion and Society.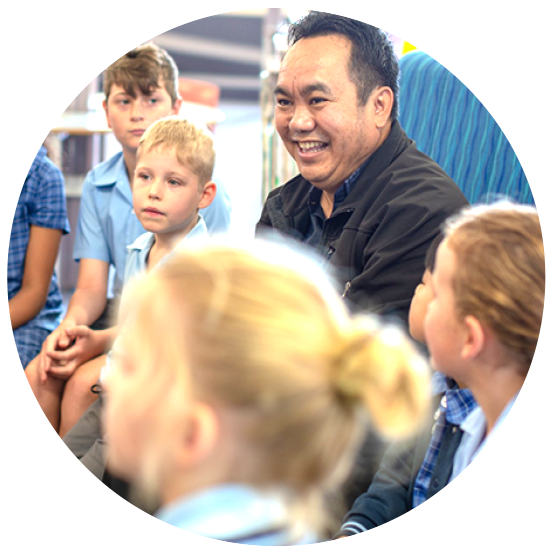 A commitment to quality learning and teaching
Religious Education, in Parramatta Diocesan school, draws heavily on the research and experience that identifies the most effective means of learning and teaching in today's classrooms. It expresses the firm belief that the quality of education in the classroom is enhanced when:
the relationship between teacher and students is based on respect, care and genuine reciprocity
a range of different teaching approaches is used so as to cater for differences in students' needs, abilities, interests and learning styles
students are encouraged to be independent learners
teachers are appropriately qualified and are authentic witnesses to the faith
How is Religious Education assessed?
Assessment has an important place in student development. Two main areas are considered:
Knowledge and skills

This is where progress in content knowledge and skills is observed in what students can explain, demonstrate, make or perform.
Values and Attitudes

Here teachers have to be alert to what students are revealing about values, attitudes and an understanding of the mission of the church, in class discussions and presentations, as well as in comments and suggestions.
It is important to note that a student's personal faith is not assessed or reported on within the subject of Religious Education.