Penola Catholic College Emu Plains students were given the chance to immerse themselves in thinking outside the box when P-Tech partners Price Waterhouse Coopers (PwC) and Telstra paid them a visit recently.
Pathways In Technology (P-TECH) is an Australian Government initiative that provides students with an industry-supported pathway to a science, technology, engineering and mathematics (STEM) related diploma, advanced diploma or associate degree. The opportunity provides students with access to work with industry experts in leading fields and gain real world business experience.
In a day focused on collaboration, students from Years 7 to 10 were invited to take part in a range of interactive activities which saw them develop their skills in a different way. Penola Catholic College Principal Tania Cairns said this is a great opportunity for their students to embrace their learning. "This will demonstrate to the students how they can be design thinkers and seek solutions to everyday problems. It's about opening up their thinking and to "Dream Big, Be More!," Mrs Cairns said.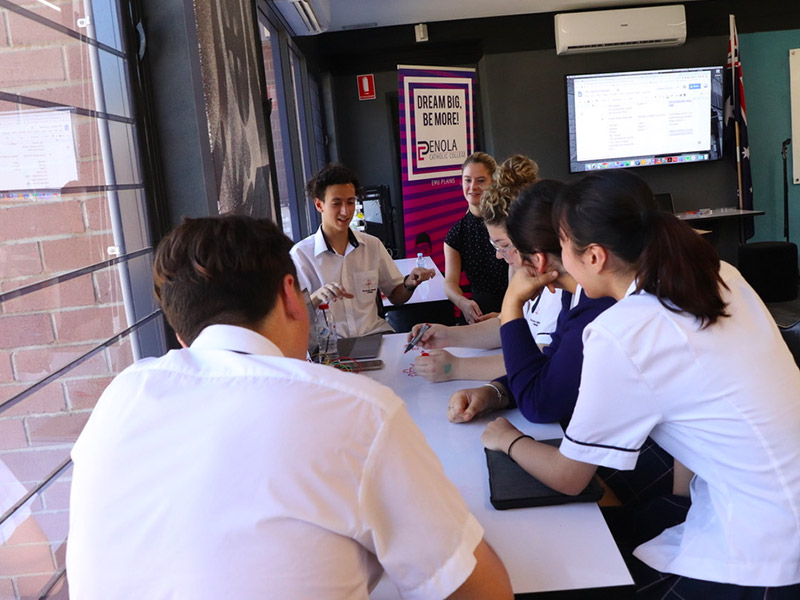 Penola Catholic College Year 7 to 10 students take part in an interactive P-Tech Collaboration Day
PwC representative Katrina Iannella said joining P-Tech has been a great collaborative opportunity for them professionally. She said the opportunity to get down on a grassroots level with students helps them to understand how people are learning about technology in society from the very basic level right up to industry.
"Soft skills within the tech sector is very much a growing arena right now! What we ran at Penola was a Shark Tank presentation. We were working with the students on technical innovations, whether that be a Rube Goldberg Machine or a Keychain. We looked at how they can best market that to a potential investor in a classroom setting using the public speaking skills we taught them," Miss Iannella said.
Year 11 student Jack Pendergast, who is interested in the world of coding, said when choosing his electives in Year 9 he went to a stall about P-Tech which stirred his interest. "In Year 9 there was a lot of information around coding and how it is used in the real world. Then the following year we did more practical aspects of coding like: coding websites, Work, Health & Safety within the workplace," Jack said.
"I do like coding, but what I like about P-TECH is we get to do a little bit of everything," Jack said.
Telstra representative Yvette Sraga said they are always excited to share their love of technology with young people and helping them grow in that field. "Telstra has been involved with P-Tech for four years. We like to encourage innovation, curiosity and taking risks," Mrs Sraga said.
"I was really excited to show some augmented reality with students which has been developed by Telstra for the UN. It is a new education platform and is one way education will be delivered in the future. Students seemed really excited about having augmented reality in the classroom and what that might mean to them," Mrs Sraga said.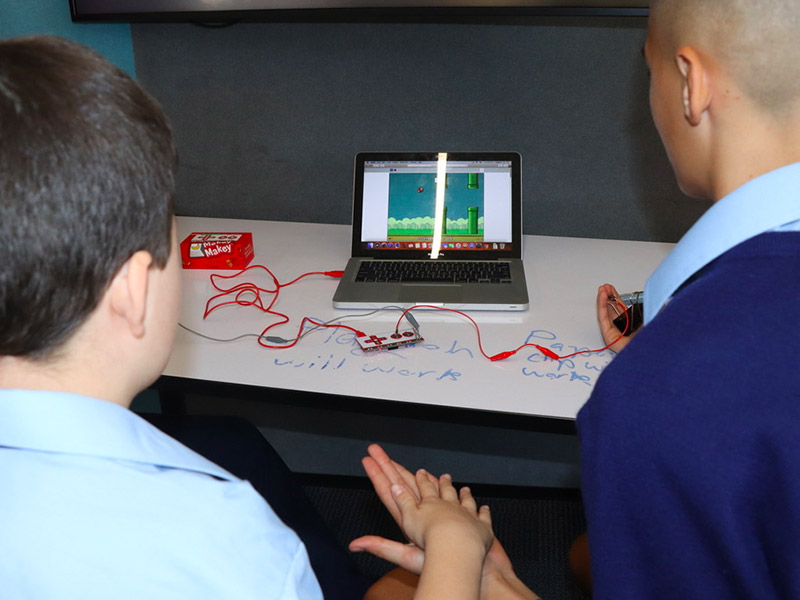 Year 7 students take part in the Makey Makey Game Controller Design Challenge
For Year 8 students Ella Dunlop and Imelda Wright doing P-Tech as an elective subject allows them to get some insight into how business is done in the real world. "We get to learn how to structure speeches, learn business skills, life skills and how to run your own business," Imelda said.
"I want to be a graphic designer and I am very interested in running my own business and this is where P-Tech gives me the information I need to start working towards that goal," Ella said.
Penola's Technology Leader of Learning Damien McGuire said students were presented with numerous design challenges throughout each session and was impressed with the solutions the students designed, created and evaluated.
"I am always amazed with the ability our students have to take a list of design constraints or limitations and produce a solution that is not only creative but straight to the point. They have an inherent ability to look at a problem and not be limited by established boundaries. Our students really appreciated the opportunity to put into practice the ICT and design skills we have explored in class," Mr McGuire said.