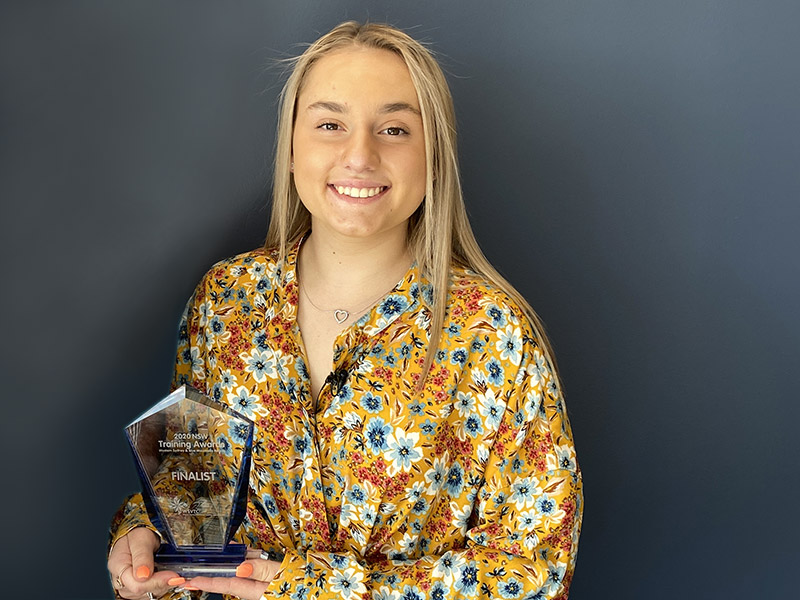 CathWest Innovation College's Jessica Libreri has won the School Based Apprentice/Trainee award at the 2020 NSW Regional Training Awards, one of five Catholic Education Diocese of Parramatta students who were named finalists.
The prestigious awards celebrate achievements in vocational training among students and education providers.
CathWest had two students named finalists for the same award – Jessica and Chloe Pelle are both completing a Certificate III in Early Childhood Education at the McCarthy Campus in Emu Plains with Jessica undertaking work placement at Explore and Develop early childhood centre, also at Emu Plains.
It reinforces CathWest's reputation as a model school offering alternative pathways to employment and further education.
"What a wonderful achievement to replicate our success from 2019 - two students nominated for the School Based Trainee/Apprentice of the year for the Western Sydney and Blue Mountains region and one a winner," said CathWest Principal Cathy Larkin. "This is a great testament to the deep commitment to vocational education in our diocese and the quality of the training and workplace opportunities". In winning her category for the Western Sydney and Blue Mountains region, Jessica, from Silverdale, progressed to the state finals which will be held in October.
"When they called my name, I just started crying," Jessica said on winning the award. "There were so many other excellent nominees so to win, it was just incredible. It's given me such a great confidence boost and shows that I am worthy and must be doing well at school and work."
"This really backs up my decision to move to CathWest in year 11," Jessica added. "The whole point of the VET course through my school is preparing us for life after school. It's much more than simply work experience, they're preparing us for the real world and real jobs. They teach us about teamwork, communication, working with other people, working with children and the business side of things."
Judges deemed that Jessica showed exceptional commitment to her formal studies at school and in the workplace, factors which are especially poignant in a year of mass disruption due to the coronavirus pandemic.
"They ran classes every day and we had split screen technology so if we didn't understand something then they were always on the ball with helping us," Jessica said, explaining how CathWest has supported her this year. "They're really good mentors. The principal and teachers called us often, checking in on how we're doing mentally, especially through COVID. Even just saying congratulations when I was nominated and won the training award."
Three other Catholic Education Diocese of Parramatta students were also named finalists for the awards. Chantelle Gordon (Certificate II Business) from Emmaus Catholic College Kemps Creek, was a finalist for the VET in Schools Student of the Year Award for the South West Sydney Region while Arthur Sadek (Certificate II Hospitality) from Delany College Granville and Yuyin Zhang (Certificate II Business) from St Agnes Catholic High School Rooty Hill were finalists in the same category for the Western Sydney and Blue Mountains Region.
---
Looking for a different way to learn?
With locations in Emu Plains and Mount Druitt, CathWest Innovation College meets the needs of today's students who will live and work in an ever-changing world.
Learn more