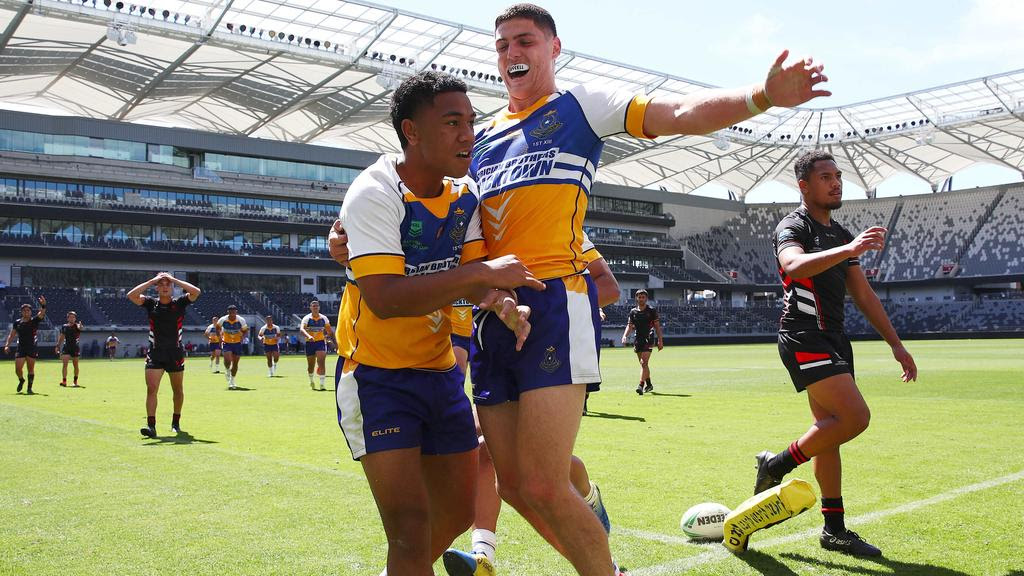 Sione Lino is emnbraced after scoring his try. Picture: Toby Zerna
Patrician Brothers Blacktown are through to the final of the NRL Schoolboy Cup with a nailbiting victory over Endeavour Sports High at Bankwest Stadium.
After trailing by 10 points, Patrician Brothers Blacktown fought back to beat Endeavour Sports High 32-24 and progress to the NRL Schoolboy Cup Grand Final.
Parramatta Eels coach Brad Arthur watched, as his son Jakob and Isaiya Katoa took control of the seesawing affair at Bankwest Stadium on Wednesday.
The Patties halves showed great composure to orchestrate three tries in the closing 15 minutes to book their spot in next week's blockbuster final against Westfields Sports High School.
"Everyone was positive, not one person put his head down," skipper Jakob Arthur said.
"Part of our culture is to never give up, keep fighting until the bell … we've faced adversity all year, but we've still come out on top, it was good to get the win."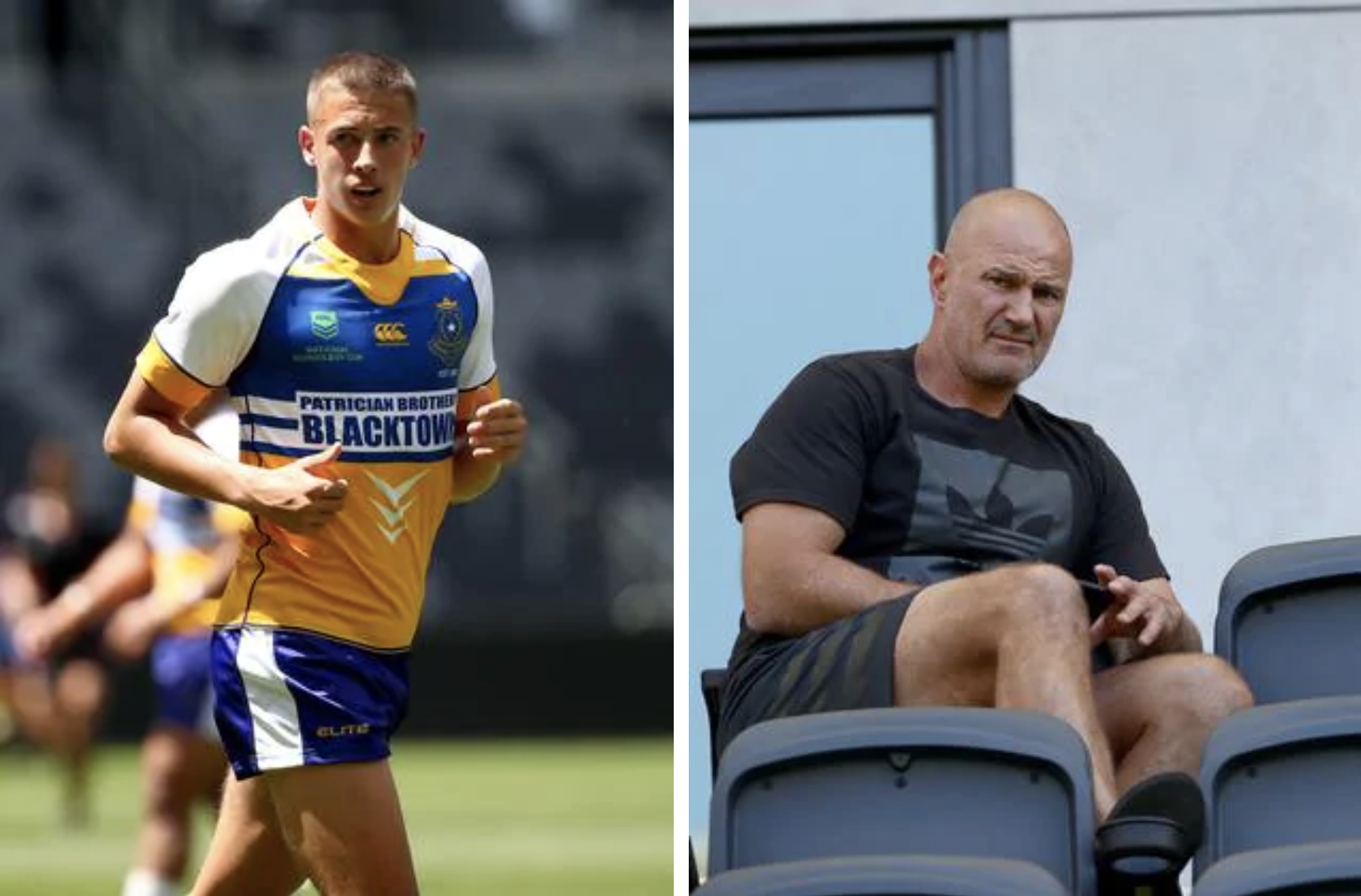 Left: Jakob Arther playing for Pats Blacktown. Right: Brad Arthur watching from the stands. Pictures: Toby Zerna
The Year 12 student - who just finished his HSC exams - praised the talent of his partner Katoa, brother of Bulldogs NRL star Sione Katoa.
"He's a freak. He's only 16, in Year 10, this is the first year we've played together" Arthur said. After losing the NSW title to Westfields in 2019, Arthur is hoping to get revenge at Leichhardt Oval next week. "They're a good side, they're always tough, hopefully now we'll get them back for last year." Patties might have won, but Endeavour made them fight for every point - the underdogs led by ten points with fifteen minutes to go. Captain Billy Burke lauded his team's attitude in 2020.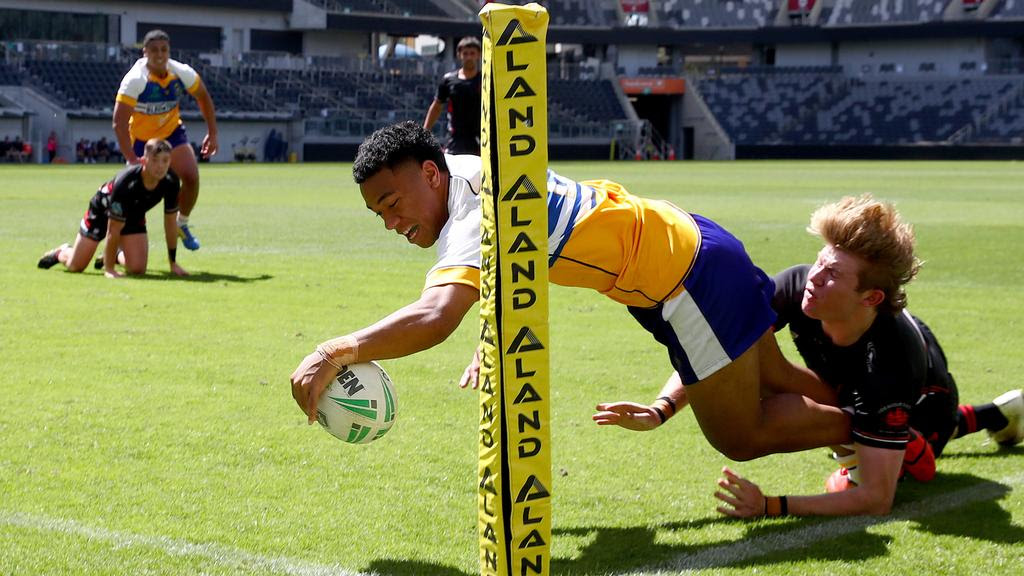 Patrician Brothers' Sione Lino scores a try to help seal the 32-24 win. Picture: Toby Zerna
"I'm definitely proud the boys over the last 12 months have worked really hard, to put in a performance like that and to come up short, it's tough, there's always going to be a winner and a loser," Burke said. "There's definitely a lot of talent in the year 11 group, we had a few play today, that whole year is itching to play. They were on us Year 12s boys back and keeping us accountable. Next year they'll be in good hands with Kels (Brad Kelly)." It took Australian Schoolboys star Sam Loizou just three minutes to get Patties on the board. After missing the first two games due to injury and illness, Loizou immediately crossed on the left. With the conversion waved away, Patrician Brothers led 4-0.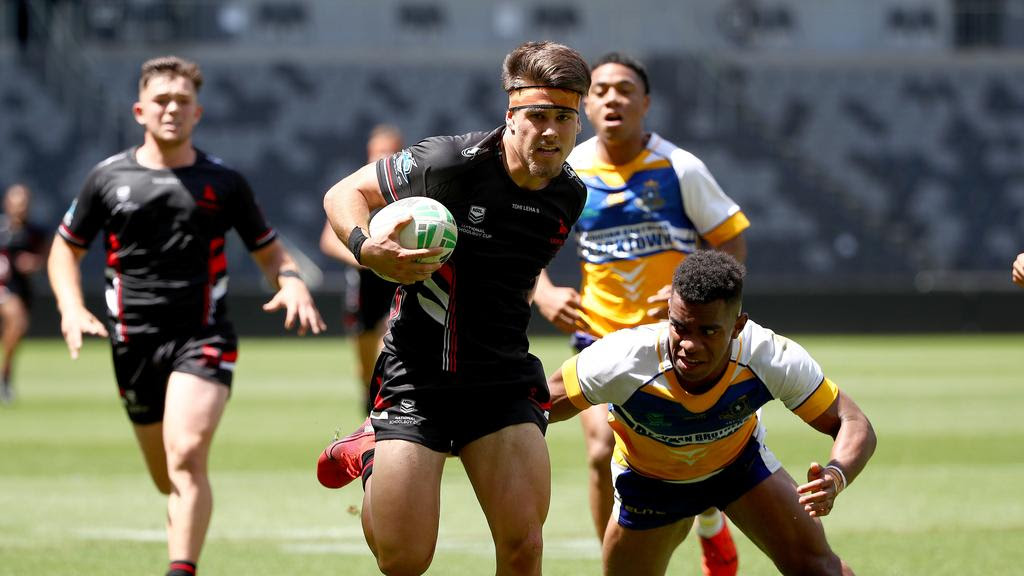 Endeavour's Kobie Wilson scores a try right on half-time. Picture: Toby Zerna
Endeavour responded via Bulldogs junior Iverson Matai. Brilliant footwork and offloading by Sam Jinks allowed his five-eighth to spin over. Burke booted the conversion and Endeavour led 6-4. Patties halves Arthur and Katoa then orchestrated two tries on the right edge. Centre Sunia Turuva burrowed over and winger Kristian-Le Mai pushed their school ahead 14-6. The boys from Blacktown continued to attack and Bailey Nouredine always looked dangerous from dummy half. But just before halftime, Endeavour's Kobie Wilson had a breakthrough. The hooker - who was named in the 2019 Australians Under 15s side - scooped up a lost ball and ran 50 metres to cross. Burke converted and Endeavour trailed 14-12.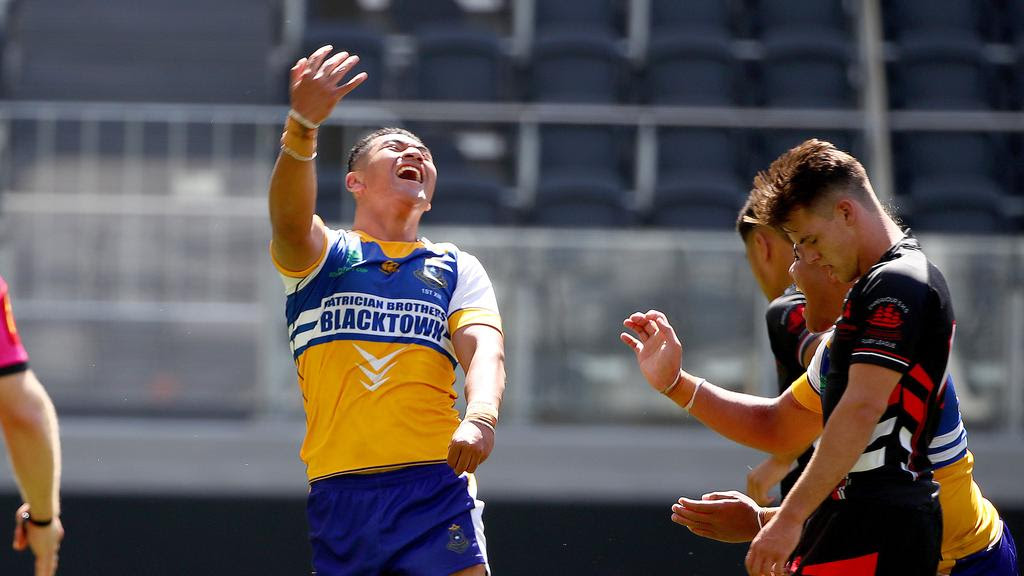 Patrician Brothers' Isaiya Katoa scores a try in their 32-24 win over Endeavour. Picture: Toby Zerna
Endeavour returned to the field, ready to rumble. While Patties struggled to adapt after injury forced hooker Nouredine from the field, Brad Kelly's side scored two quick tries. Matai put his hard-running fullback Dylan Hema over and then Jinks weaved around defenders to cross. Burke's accurate boot propelled Endeavour ahead 24-14. Trailing by 10 points and with just 15 minutes to go, Patties took control. Katoa shifted to dummy half, channeling the skill of his brother. Max Tupou made a break for it in the 46th minute and offloaded to Arthur, who crossed under the post. Minutes later, winger Sione Lino flew over on the left. With Loizou's conversions, Patties were back ahead 26-24. With three minutes remaining, Katoa secured Patties' spot in the grand final, scoring straight off the back of a scrum. Louizo slotted the conversion and Patrician Brothers won 32-24.
---
ENDEAVOUR TRIES
Iverson Matai, Kobie Wilson, Dylan Hema, Sam Jinks; CONVERSIONS Billy Burke 4/4
PATRICIAN BROS TRIES
Samuel Loizou, Sunia Turuva, Kristian - Le Mai, Jakob Arthur, Isaiya Katoa; CONVERSIONS: Samuel Loizou 4/5
---
Teams
PATRICIAN BROTHERS BLACKTOWN
1. Sean Russell 2. Maxwell Pritchard 3. Samuel Loziou 4. Sunia Turuva 5. Kristian - Le Mai 6. Isaiya Katoa 7. Jakob Arthur 8. Jai Wynbergen Titoko 9. Bailey Nouredine 10. David Langi 11. Blake Martin 12. Uinitoni Mataele 13. Jontay-Junior Betham-Misa BENCH: 14. Ethan Sanders 15. John Sagaga 16. Lafaele Tauapai 17. Max Tupou 18. Jecil Pritchard 19. Alfred Uelese
Coach: Noah Meares
ENDEAVOUR SPORTS HIGH
1. Dylan Hema 2. Jayden Samrani 3. Lajuan Vito 4. James Roach 5. Te Wehi Waitere 6. Callum Perryman 7. Iverson Matai 8. Chase Roberts 9. Kobie Wilson 10. Joshua Finau 11. Sam Jinks 12. Billy Burke 13. Dtranza Hawe-De Thierry BENCH: 14. Tully Wilton 25. Izayah Tuigamala 16. Selwyn Smith 17. Lachlan Gibbs 18. Kynan Hodges 19. Blake Canavan 20. Thomas Siumaka 21. Kyle Weatherall
Coach: Brad Kelly