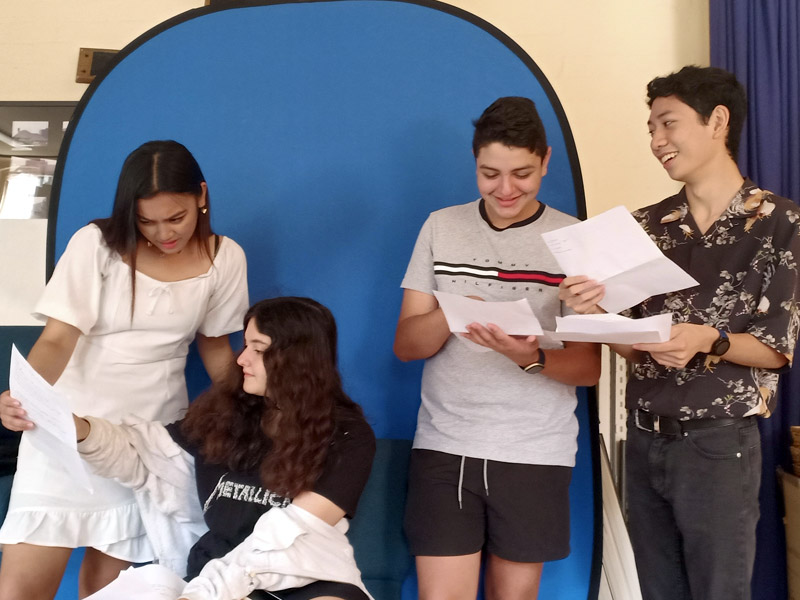 Pictured: Denica Brillo, Ionna Hatziandreou, Joseph Khalil, Mateo Soriano
A record number of Catholic Education Diocese of Parramatta students received scholarships to attend Australian Theatre for Young People (ATYP) workshops across Sydney during the January school holidays.
The students are active in CAPTIVATE, Catholic Education Diocese of Parramatta's creative and performing arts program.
Fourteen students from St Pauls Catholic College Greystanes, St Patrick's Marist College Dundas, Nagle College Blacktown and Parramatta Marist High School participated in five diverse ATYP programs including screen acting, comedy masterclass, and online monologue and scene work.
Year 11 St Pauls College student TJ Furness was one of only 16 students selected from across Sydney to undertake the ATYP National Summer Drama Camp.
"Wow, what an experience," TJ said. "There in the room in front of me, 15 people all with the same passion and enthusiasm for drama that I have. By lunchtime, we felt we had known each other for years."
This intensive week-long program included seeing two evening performances of cutting edge Sydney Festival productions as well as Masterclasses with industry professionals covering areas such as movement and physical characterisation, voice, storytelling and Shakespeare.
Mornings were set aside for skill building and afternoons were spent busily creating a self-devised collective performance for the final day, which was filmed and posted online as COVID-19 restrictions meant no public performance was permitted.
"What was most interesting was working together to share ideas and personal experiences and experimenting with how best to present our piece as an ensemble," TJ said. "I was motivated to push myself to be the best actor I can be."
Lucinda Amour from CAPTIVATE Drama said TJ was a worthy scholarship recipient for this elite program.
"TJ is a long-standing member of our drama ensemble and an enthusiastic, committed student," Lucinda said. "We couldn't be more delighted that he was offered this opportunity."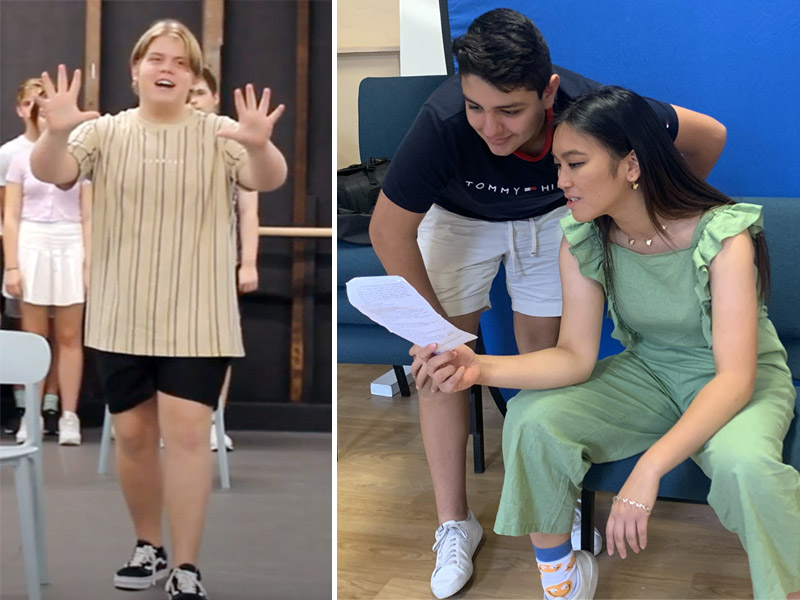 Left: TJ Furness Right: Denica Brillo and Joseph Khalil
CAPTIVATE Drama students Denica Brillo and Ionna Hatziandreou (Year 11, Nagle College) and Mateo Soriano and Joseph Khalil (Year 10, Parramatta Marist) were recipients of scholarships to the week-long ATYP Screen Acting program.
Denica described the program as 'one to remember', especially the sense of 'instant welcome and belonging' on the first day.
"We explored all the reasons why learning screen acting is an amazing asset, and how to get our head in the game and set about working on the two major scripts to be filmed during the week," Denica said. "It was a place where we allowed each other to make mistakes and then helped each other by learning and growing together."
The ATYP receives sponsorship and funding to facilitate outreach for students in Western Sydney and regional areas each year, valued at between $300-750 per program. The ongoing collaboration between ATYP and CAPTIVATE continues to offer CEDP students outstanding creative opportunities.
"I believe that through CAPTIVATE, I am given chances to grow as a performer," TJ Furness said. "I am incredibly grateful to CAPTIVATE for their ongoing support and all they do for their students."
Denica also expressed her gratitude, saying "This phenomenal experience wouldn't have been possible without the generosity of CAPTIVATE and the ATYP, gifting talented students with remarkable support and opportunities."
Lucinda Armour said CEDP is very lucky to have access to these programs from the premier youth theatre company in Australia.
"We are so appreciative of all the ATYP do in their support of CAPTIVATE, our students and our schools." Lucinda said.
---
Find out more about the Australian Theatre for Young People