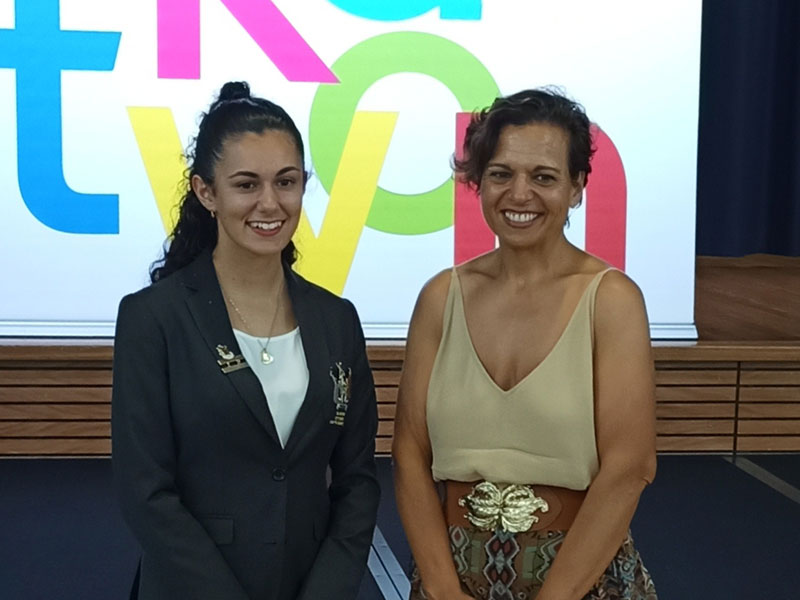 Demi alongside Michelle Rowland (MP), at Australia Day Celebrations
Demi Spiteri, a Year 12 student at St John Paul II Catholic College, as the Blacktown City Council Youth Ambassador, has been working tirelessly after school hours as a voice for the youth in our local community.
Demi contributes by attending ceremonies and conferences where she speaks and participates in events such as Citizenship Ceremonies and Civic Receptions. Most recently, Demi attended Australia Day Celebrations and the International Women's Day Breakfast as a representative for local youth.
Demi has also attended the Blacktown Youth Services Association to observe the programs that they provide for young people. She discovered that the organisation has a social impact through their dedication to positively transforming the lives of youth. As an attendee at Blacktown Cultural planning workshops at the Leo Kelly Arts Centre, Demi has provided an insight into the needs of the youth in Blacktown.
Demi is now working on planning and implementing Youth Week as part of her position on the Youth Advisory Committee. The Youth Advisory Committee will be running a workshop to develop temporary street art to raise awareness for Youth Week through creativity. Demi is also a member of the Sister Cities Committee where she learns about the council's international links and the process of maintaining these connections through regular conferences. Coming up this month, Demi will be a guest speaker at a HSC Forum where she will share her experiences and advice to fellow students to guide them through their HSC journey.
Jim Fanning, Principal of St John Paul II Catholic College, has commented on Demi's accomplishment: "Demi as a student representative of St John Paul II Catholic College, has always been able to identify and discuss the key issues with teachers affecting our students to improve their learning and wellbeing. I am confident Demi will be able to also provide ideas for the young people in the Blacktown City to improve current and future youth programs."
Assistant Principal, Peter Regan stated, "We are very proud of Demi's achievements. She has worked very hard throughout her schooling and commitment to the Blacktown community to be selected in this role. It is rewarding to hear Demi speak about the work that she is doing and what is coming up for her over the next few months".
Demi Spiteri, the Blacktown City Youth Ambassador, said, "I have had the chance to work alongside important public figures in decision making processes that affect the youth in our Blacktown community. I have been inspired by the processes of Council and love being involved in the steps towards a brighter future for our youth".
Stay tuned as we will continue to update you on Demi's role throughout the year.