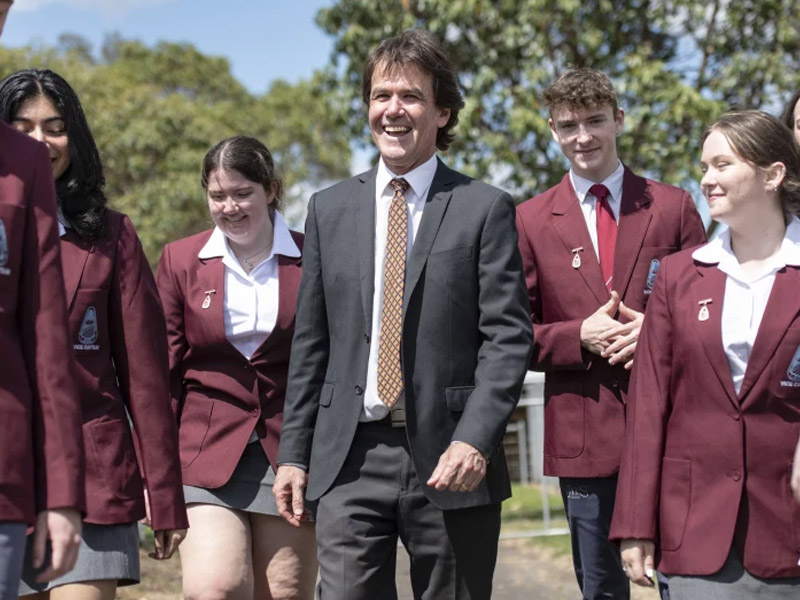 Jamison High School principal Glyn Trethewy with some of his students as they launched their new renewable energy system on Friday.Photo Credit: WOLTER PEETERS
From Monday, when students return full-time to Jamison High School, the power used to charge their laptops and light their classrooms will have been sourced from the solar panels on the school's rooftops.
The western Sydney school is the latest to ramp up its renewable energy systems and use batteries and solar energy to help fuel its operations. Principal Glyn Trethewy said they turned on the system for the first time on Friday.
"It's been a great journey, to be making our contribution to sustainability and reducing our carbon footprint," he said. "Schools use power for the essential curriculum, but we also have large roof spaces."
About 1500 of the state's 2200 public schools use some level of solar energy and a few, such as Wiley Park Girls High in western Sydney, source substantial amounts of energy from their 100 kilowatt solar panels. Others have smaller systems of about 5 kilowatts, which mainly supplement other power sources.
But the potential for schools to both generate energy and sell it back to the electricity grid could help propel NSW towards its goal of halving emissions by 2030, the state government said.
The NSW Department of Education is looking to replicate a similar model to Jamison High's across its schools and last week released tenders for solar energy systems to be mounted in a $20 million pilot program across 25 schools. Work is due to begin in the summer holidays.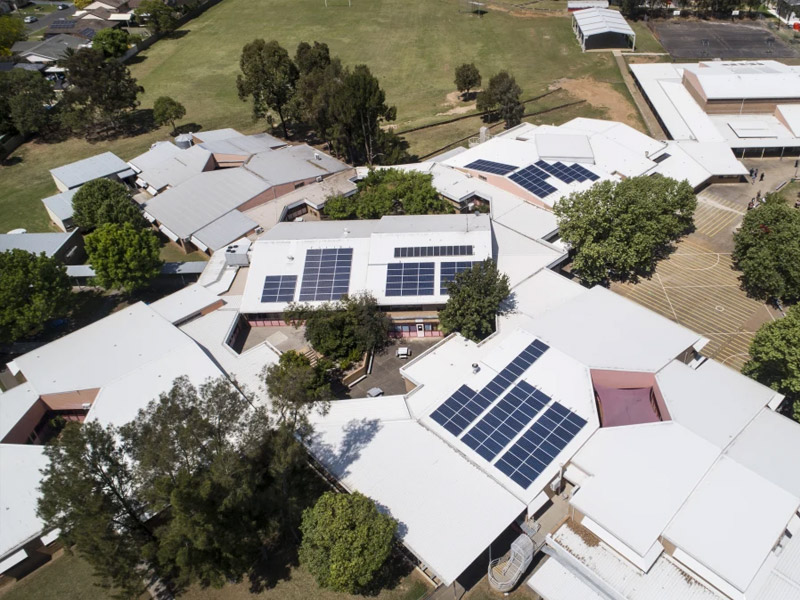 Jamison High School's new solar panels. Photo Credit: WOLTER PEETERS
The pilot will assess the costs and benefits of installing solar systems and batteries at school sites, as well as other initiatives that could reduce demand on electricity networks.
Treasurer and Energy Environment Minister Matt Kean said it was part of the NSW government's efforts to achieve net zero emissions by 2050: the new systems would generate electricity to run the schools, store energy and sell it back to the grid.
The department estimates the pilot will generate 2.4 million kilowatt-hours of electricity in its first full year of operation.
"There is more than 8 million square metres of NSW public school roof space and this pilot will allow us to understand how we can use it to support the next generation of renewable energy on a larger scale," Mr Kean said.
Education Minister Sarah Mitchell said the initiative would allow public schools to reduce their power bills and carbon footprint. "Soon they could be leading the charge in green energy," she said.
Three of the 25 schools chosen to take part in the pilot are in Sydney: Glenbrook Public, Kingswood Public and Gymea Technology High School. The rest are spread across the regions.
The move towards solar is also happening in other school sectors. Two years ago, the Sydney Catholic Schools network launched a solar panel and LED lighting project across its 152 schools, which it said would reduce energy consumption by 50 per cent and utility expenses by 30 per cent by 2032. It aimed to convert all schools to solar by 2023.
The Diocese of Parramatta will have solar systems installed in 36 schools by the end of the year; in some, the program has reduced power bills by 40 per cent.
Mr Trethewy said Jamison High would not be able to gauge how much it had ultimately saved on energy costs until this time next year.
Meanwhile, the system will become an educational resource for maths, science and geography classes as students will be able to monitor the school's real-time energy generation and consumption online. "It's got a real curriculum focus [too]," Mr Trethewy said.