Santa Sophia students awarded top prizes at International Youth Music Competition
02 Aug 2021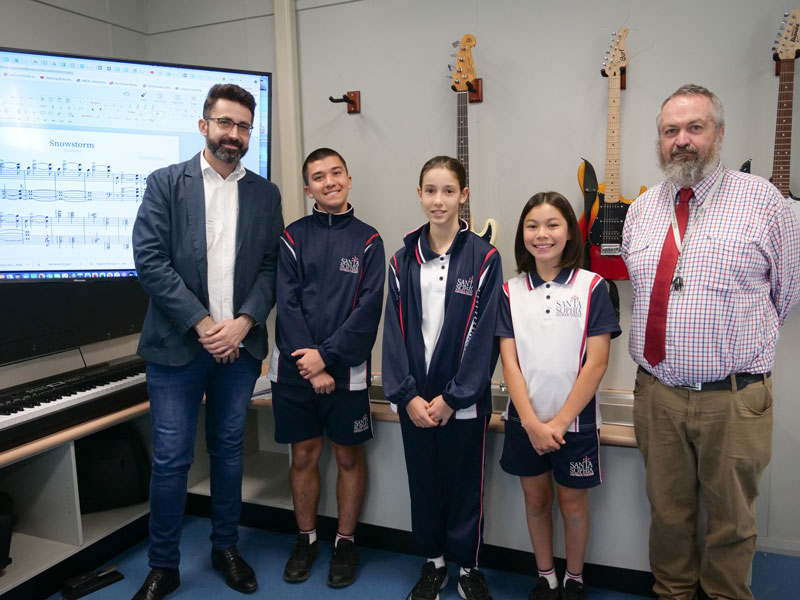 Pictured (L-R): Guest speaker at Santa Sophia's Composer's Club, Dr Petar Jovanov, prize winners Anthony Theodosiadis and Marcella Galati, club member Nico Hofma and Music Coordinator, Mr Phil Rooke.
Two students from Santa Sophia Catholic College Box Hill have proved themselves to be among the best young composers internationally, having received top prizes in the International Youth Music Competition for Composition.
Anthony Theodosiadis (Year 10) received a First Prize with a score between 95-99% for his 'String Octet in A Major (in 3 movements)' and Marcella Galati (Year 7) received a Grand Prize with a perfect score of 100% for her work for solo violin and piano - 'Snowstorm'.
Anthony's submitted entry features three movements of music written for string instruments.
"I decided to compose the work in the style of Classical/Romantic music, emulating my study of music written hundreds of years ago, in a style that I felt would best express and showcase my musical ideas," Anthony said. He aims to write two additional movements to complete the composition.
A judge from the panel of the competition expressed that it was a "joy" and "privilege" to hear music from such a "talented young composer" such as Anthony.
Similar praises were said of Marcella's Grand Prize winning composition, with a judge describing her as a "wonderful young talent". One judge was particularly impressed by the "build-up of rhythmic tension" and "strong dynamics" of her composition.
Speaking of the meaning behind her composition titled 'Snowstorm', Marcella revealed that "it reflects the expression of emotions and perspectives encountered in the journey of life."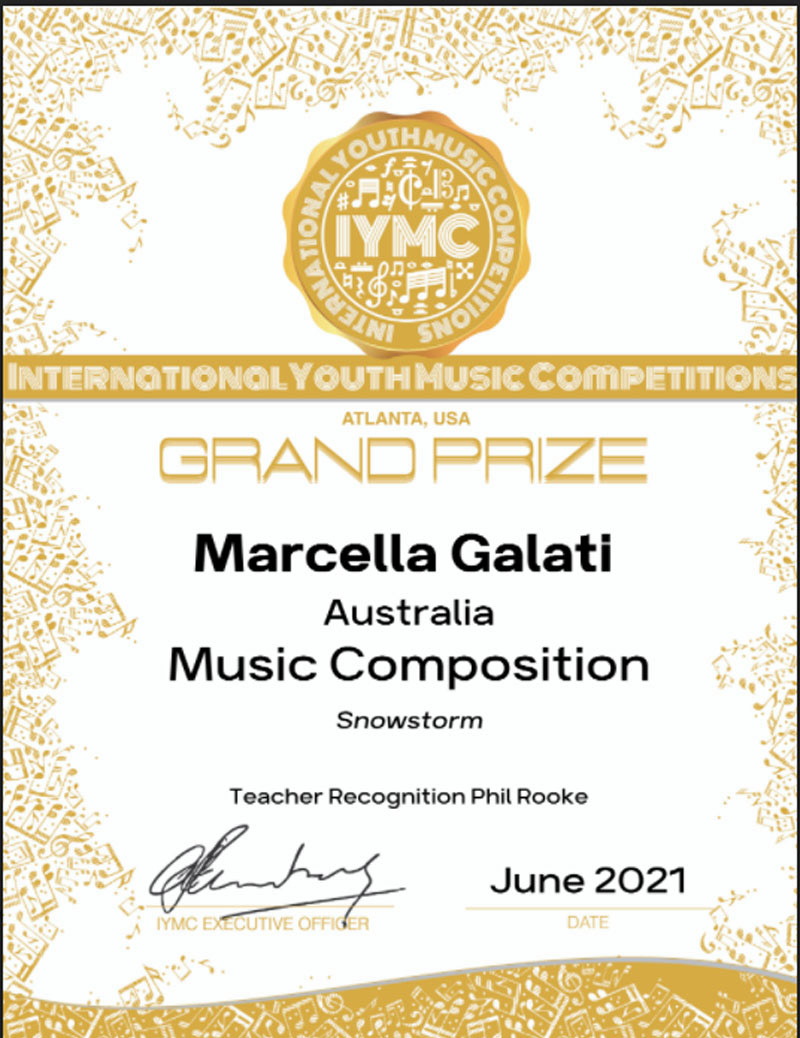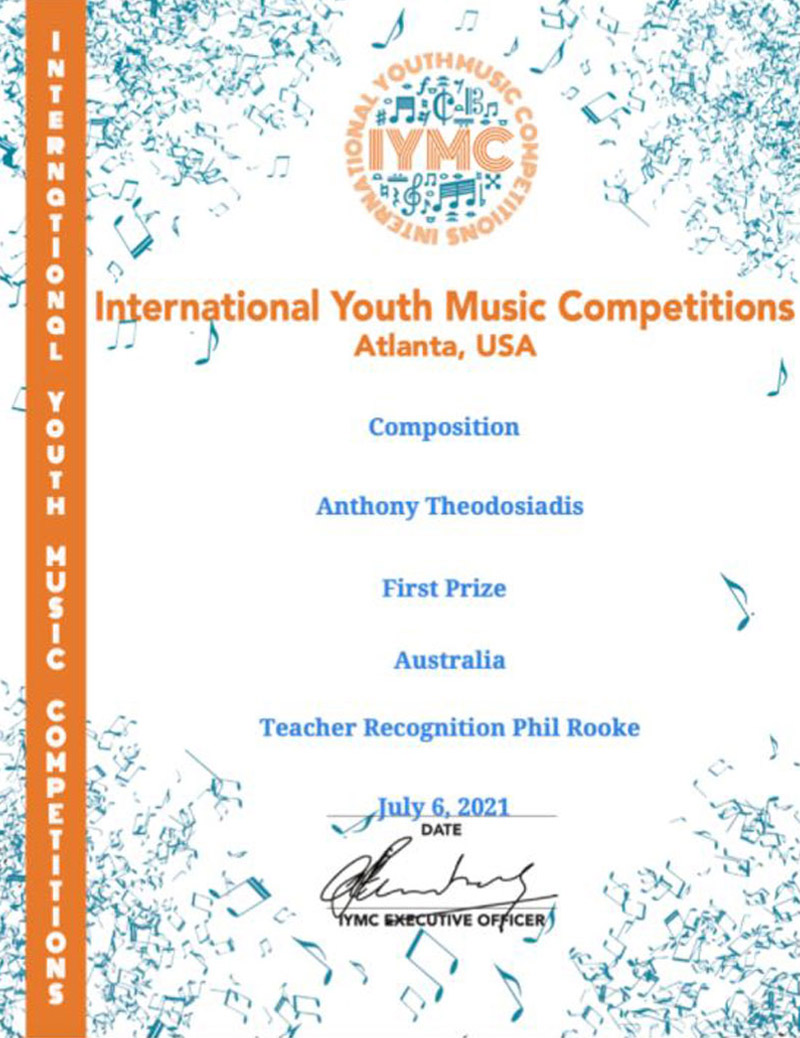 The judges left powerful words of encouragement for Marcella, stating that "the world needs more young people like you." In response to winning the Grand Prize, Marcella expressed that she feels "empowered ... to continue the journey of music [she] started in Kindergarten."
Both students, Anthony and Marcella, are members of Santa Sophia's growing Composer's Club, held twice weekly during lunchtimes. It is during these times that they have worked consistently throughout the school term to develop these compositions under the guidance of Music Coordinator Mr Phil Rooke.
"I am so proud of these students achieving such a high level of proficiency and creativity in their music composition in this international competition," commented Mr Rooke, describing both students as "very dedicated hardworking students."
"The dedication shown by Anthony and Marcella is very impressive, and I have no doubt that we will continue to see great achievements from them both in the near future," said Mr Mark De Vries, Principal of the College.
There were 102 entries in the US-based competition from 35 countries around the world, including Australia, Belgium, Canada, China, Germany, India, Italy, Spain, United Kingdom, and the USA.
---
For further information, contact:
Mr Phil Rooke - Music Coordinator, Santa Sophia Catholic College
prooke@parra.catholic.edu.au
Santa Sophia Catholic College Box Hill is a co-educational pre-to-post school providing quality Catholic education in the Diocese of Parramatta in Sydney, Australia.
22 Feb 2022

We are enrolling now! Attend your local Catholic school's Open Day to find out more.

12 Dec 2021

Choosing a school and don't know where to start? Download School Selection Made Simple to help you choose a great local learning community to support your child's learning journey.

01 Dec 2021

To showcase the artistic achievement of our 2021 HSC Visual Art students, CEDP has developed the Articulate Online Gallery as a way to celebrate and capture the works of our year 12 students from across the diocese.