Isaiah Dawe: "purpose in my wounds"
25 Oct 2022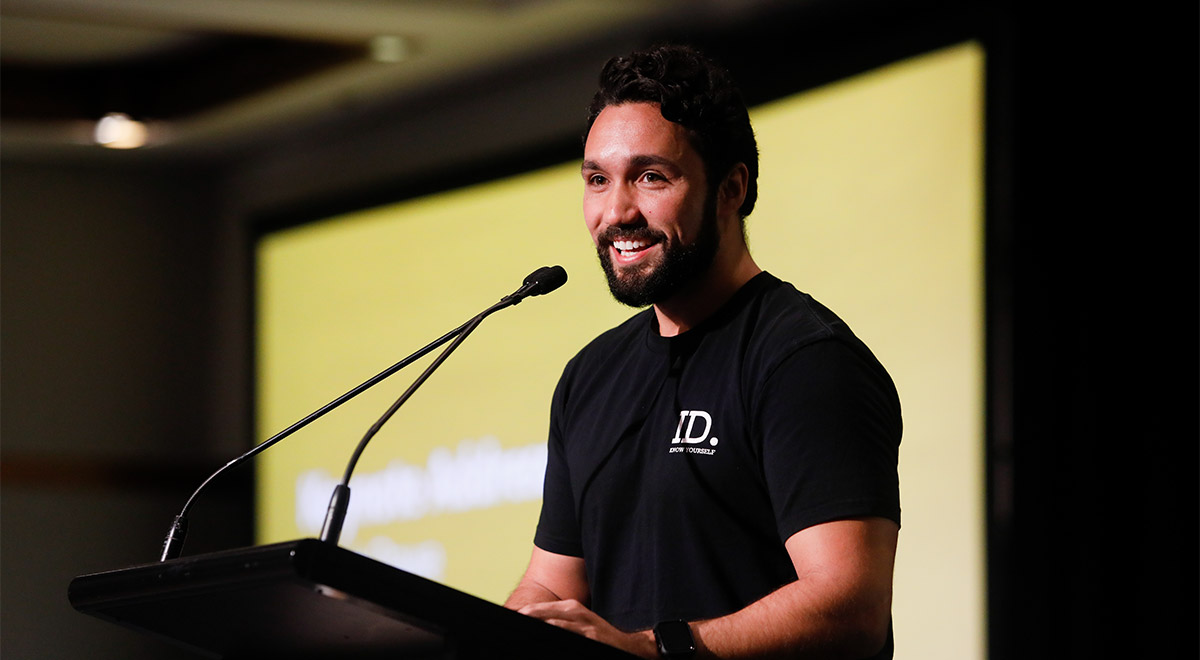 More than 500 educators from across NSW who gathered in the Blue Mountains for the recent Aboriginal and Torres Strait Islander Catholic Education State Conference, co-hosted by Catholic Schools NSW and Catholic Education Diocese of Parramatta, were inspired by the powerful story of ID. Know Yourself Founder and CEO, Isaiah Dawe.
ID. Know Yourself (IDKY) is an Aboriginal-led mentoring service for First Nations children and youth living in out-of-home care or the foster system. A labour of love for Isaiah, the service is a result of his own traumatic childhood in the foster care system where he experienced limiting beliefs, abuse and abandonment by his carers.
Separated from his family and placed into the care system at 2 years of age, Isaiah became a ward of the state at 4 and grew up in 17 different foster homes. He was reunited with his sister at age 7 and devoted himself to looking out for her as they negotiated their difficult home situations together. These challenges and constantly moving around caused Isaiah to start acting out and not performing well at school. The fact that he knew nothing about his Aboriginal background or culture only added to his despair.
"I was happy as a kid despite all these experiences but this eventually faded away. I had to repeat Year 4 as I couldn't read or write or spell my own name," Isaiah explained. "I was caught in two places as I didn't feel Aboriginal and grew up in non-Indigenous households."
But it was ultimately education, both informal and formal, that turned his life around.
He came to live with a caring Elder in Yass who finally taught him about his culture and introduced him to other Indigenous young people in the area. Isaiah describes regularly meeting up with his peers in the local park as his fondest childhood memories: "The local park was my safe place and I loved it there."
Isaiah eventually went on to be accepted at St Gregory's College Campbelltown where he learned that "you need to do the little things right or you can't do the big things right". It was here that he met "an incredible school teacher who never gave up on me".
"I had the utmost respect for her. My grades completely improved. That teacher helped me unlock my potential," he said.
With newfound confidence and a better understanding of his Aboriginal heritage, Isaiah started helping young Aboriginal people in out-of-home care by sharing his story and cultural knowledge.
"My purpose was found in my wounds. Helping other Aboriginal kids in care made me realise what I wanted to do, to make a difference in people's lives."
This small seed of purpose went on to become ID. Know Yourself, which Isaiah started with one other mentor. The IDKY program delivers group sessions and mentoring support to children aged 7 to 16 years old who have been impacted by cultural dispossession, systematic disadvantage and complex trauma. It focuses on the key areas of culture, life skills, education, wellbeing and advocacy.
"The vision for ID. Know Yourself is to create love, hope and belonging. For kids to feel not just successful but fulfilled in their lives," Isaiah explained. "The kids have positive relationships in their lives through the programs and mentoring sessions. Our goal is to support over 20,000 kids around Australia."
From such challenging beginnings, Isaiah has gone on to be a finalist in the 2019 NSW/ACT Channel 7 Young Achiever Awards, winner of the 2017 Aboriginal and Torres Strait Islander TAFE NSW student of the year and was the first Indigenous person to be awarded TAFE NSW student graduate of the year. He was appointed as a Board Director on the board of TAFE NSW as well as Marist 180 Youth Care and was a 2022 nominee for NSW Young Australian of the Year. He was recently named in Sydney Inner West's '30 most influential people under 30'.
After so much time knowing virtually nothing about where he came from, Isaiah eventually reconnected with his family. This helped him to further connect to his culture and discover a sense of belonging.
"I always thought it was pleasure I needed to heal my trauma but it was peace. And I get peace from culture and being on Country."
---
17 Apr 2023

Use the Term 1 School Holidays 17 - 19 April for an opportunity to upskill for employment outcomes and develop skills in your passion area. Limited spaces still available!