Western Sydney Catholic schools set to flourish in 2023
25 Jan 2023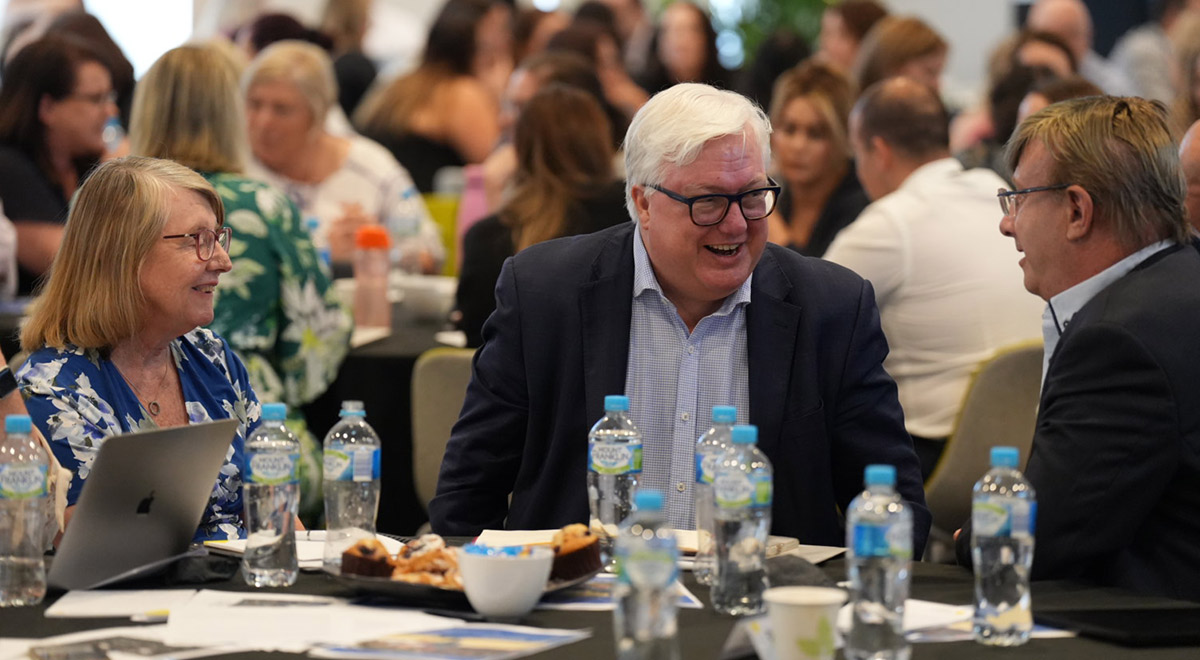 More than 600 leaders from Catholic schools across Western Sydney and the Blue Mountains gathered in Parramatta today to prepare for the school year.
At the beginning of 2023, these schools became part of Catholic Schools Parramatta Diocese (CSPD). The uplifting gathering had a strong focus on collaboration and supporting children, young people and their families to flourish in Western Sydney.
The CSPD annual System Leaders' Day began with a beautiful Welcome to Country from recent Aboriginal graduates Shanaya Donovan (Catherine McAuley Westmead), Jumikah Donovan (CathWest Innovation College) and Acknowledgement of Country from Alkira Field (St Agnes Catholic High School Rooty Hill).
Acting Executive Director of Schools Christine Howe OAM welcomed members of the new CSPDL Board including Chair Elizabeth Crouch AM. Christine commented that staff were excited about the leadership and guidance of the new Board, as well as coming together for the first time at the beginning of the school year for the first time since the COVID-19 pandemic.
"We are at a critical point in our journey as a system of Catholic schools," Christine said.
We are together all contributing to this next exciting stage of our journey as a system.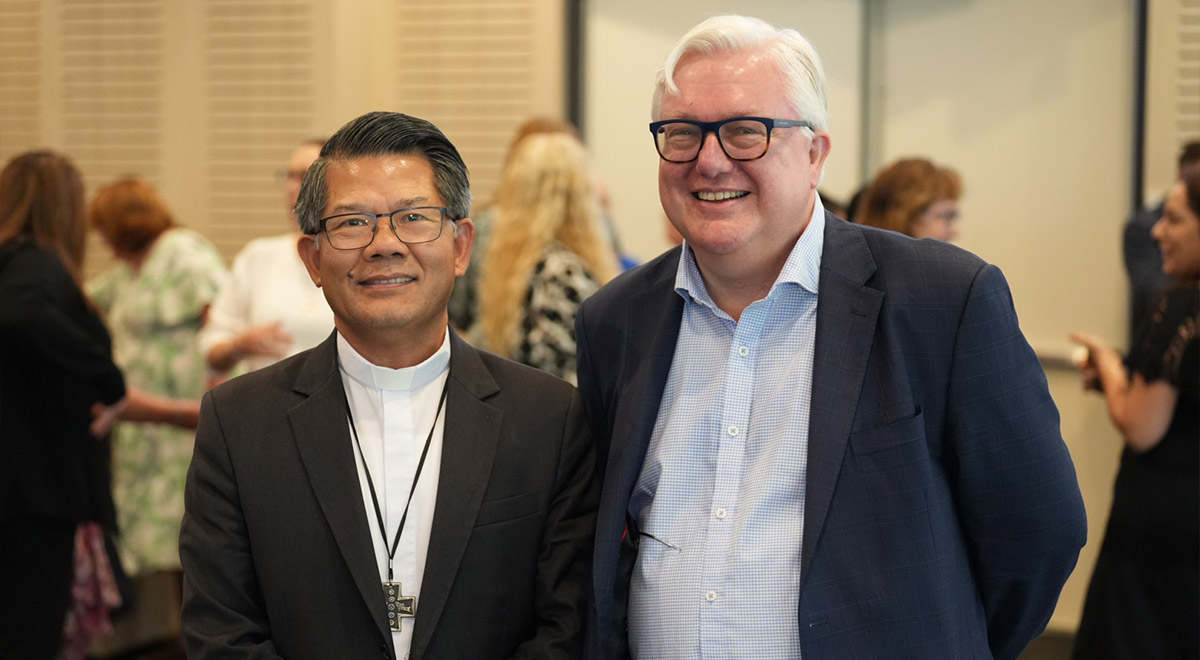 Reflecting on the teachings of Pope Francis, Diocese of Parramatta Bishop Vincent Long Van Nguyen spoke of the need for a cultural shift towards "a healthier Church for future generations".
"We are living in a time that requires a radical shift from the business as usual approach," Bishop Vincent said. "Just as the Pope calls for a new politics of inclusion in the lives of the systemic inequalities of the world we also need an education that forms young people into men and women of deep empathy, solidarity, communion as opposed to individualism and self interest."
Bishop Vincent said he was proud of the work already being recognised in the Diocese, particularly the culture of synodality known as the 'Parramatta Way'. He explained that synodality is a way of being Church doing mission in our Diocese which consists in the active collaboration between clergy and laity, the diversity of membership of governance structures and emphasises accountability, transparency and inclusivity.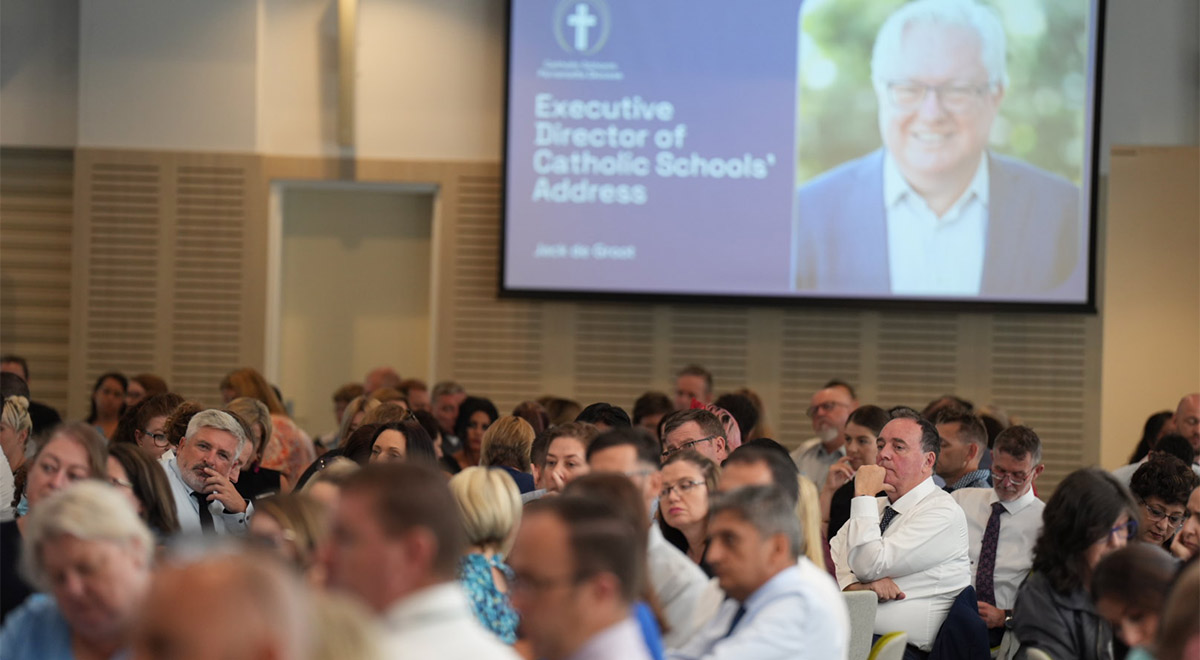 "Our Parramatta Catholic system has been outstanding in espousing our values as it has built on the work of many religious and lay people over the decades. We have been known to be at the cutting edge of innovative, inquiry based, technology and above all, Gospel-based education. Ours is a Christ-centred community that fosters not only intellectual growth but just as importantly young people's emotional, spiritual, holistic and spiritual growth."
He urged leaders to build on the legacy of great Catholic education in Western Sydney and called for creativity and imagination in the task ahead.
You can listen to Bishop Vincent's address on YouTube here.
Christine Howe then gave a very warm welcome to new Executive Director of Schools Jack de Groot. Jack joins CSPD after a distinguished career of over 20 years leading some of Australia's largest not-for-profit organisations including as the CEO of the St Vincent de Paul Society NSW and CEO of Caritas Australia.
Jack began by reflecting on the significance of the upcoming referendum on the Indigenous Voice to the Australian Parliament. This included drawing powerful connections between this pressing issue for our nation and CSPD's work with children, young people and their families locally.
In a stirring and personal address, Jack introduced himself, shared his story and spoke about what is important to him. He emphasised his specific mission in his new role will be focussed on providing support to schools as communities of learning and with a strong focus on Western Sydney aspirations and equity.
"The leadership that I have committed to is crucially one of support to you as you lead your learning communities. We, together, have a shared accountability for the outcomes of this mission of Catholic education in Western Sydney."
"My work has always taken me to these places and my faith has reinforced that desire to bring change, love and service," he said. "Western Sydney excites me because it never underestimates the human aspirations and flourishing of its community. It is hungry for access, equity, for all boats to rise."
He commended the strong record of innovation and aspiration within the Parramatta Diocese, noting the commitment of our teachers and leaders in always wanting more for their students and families.
"Your strengths in innovation of educational programs means the pursuit of excellence is there and needs to be brought to the light of our communities in greater Western Sydney," he said. "Strengths-based thinking matters to me, it's core for high performing teams. When we are strengths-based, the appetite is amazing for change."
You can listen to Jack de Groot's address on YouTube here.
The program for the day had a strong focus on strengthening collaboration, leading together, building relationships, equity and inclusion. Canadian education expert and author, Michael Fullan, led a virtual workshop focussed on optimism and humanity in learning as we move into 2023.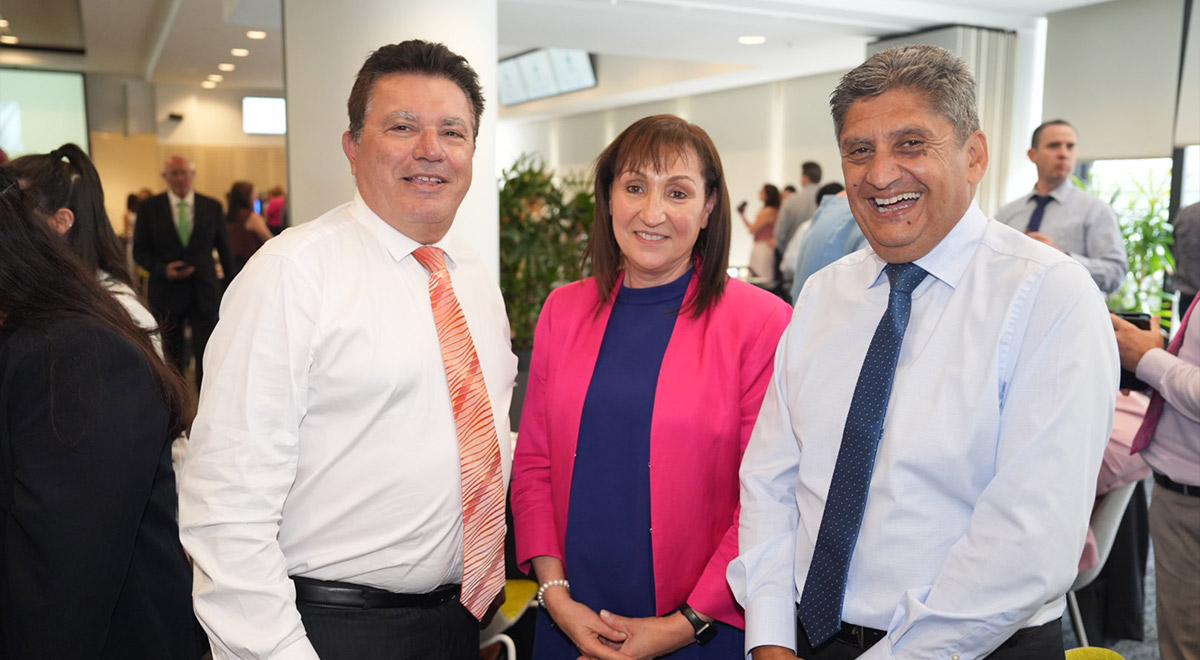 In his role as Professor Emeritus at OISE/University of Toronto and the Co-Director of New Pedagogies for Deep Learning (NPDL), Michael has worked closely with Catholic Schools Parramatta Diocese over the years. He built on the words of the Bishop in calling for a move away from the 'narrow paradigm' of self interest and individual development to 'connecting young people to a purpose and identity bigger than themselves."
This was followed by a practical workshop on Leading High Impact Collaborative Teams from Michael Rafferty, a Partner of EY People Advisory Services and Kathryn Lane, a Senior Consultant in EY Oceania's Leadership, Culture and Purpose practice.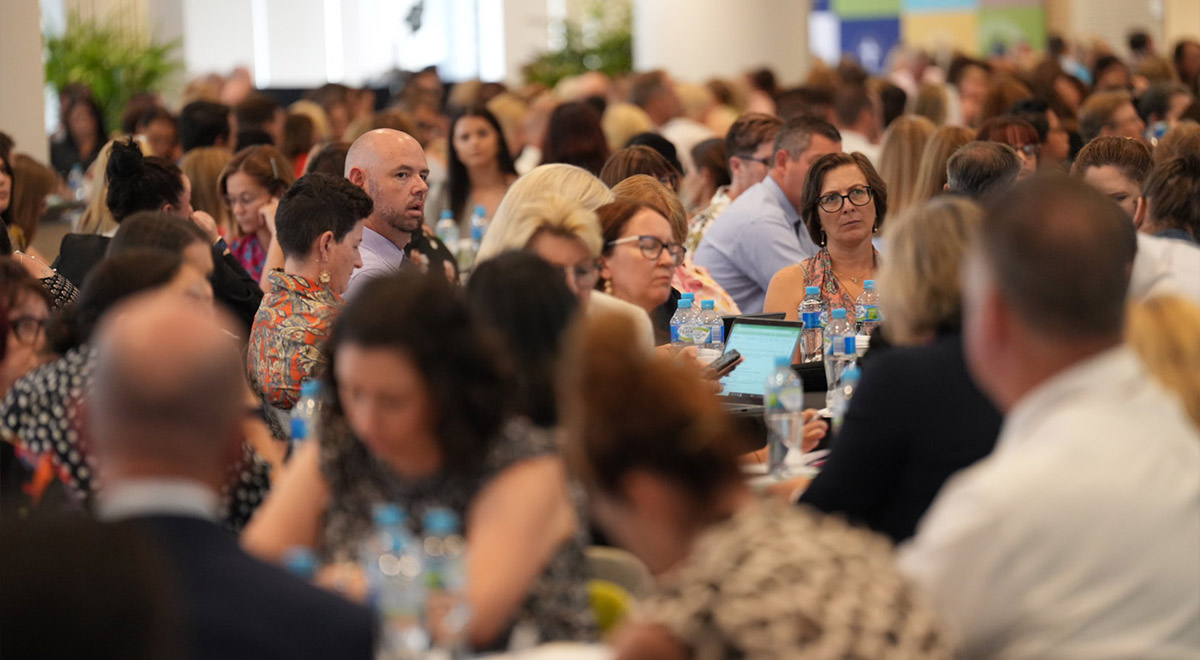 Prof Br David Hall FMS gave an entertaining keynote address on human flourishing, the importance of humility in leadership and developing the capacity to be bold, to listen and to discern.
The event also featured a small band of Principals and senior staff on guitar and vocals. Sergio Rosato (Bethany Catholic Primary Glenmore Park), Tony Hughes (Christ the King Primary North Rocks), Mary-Anne Stenning (St Monica's Primary North Parramatta), Paul Stenning (CathWest Innovation College) and Attila Lendvai (Learning Directorate) ended the event with a rousing rendition of We Are Australian.
There is a lot to look forward to in 2023 as Catholic Schools Parramatta Diocese continues to support children and young people to grow in faith and learning across Western Sydney and the Blue Mountains.
01 Mar 2023

We are enrolling now! Attend your local Catholic school's Open Day to find out more.