Following in the footsteps of The Greatest Showman
28 Oct 2022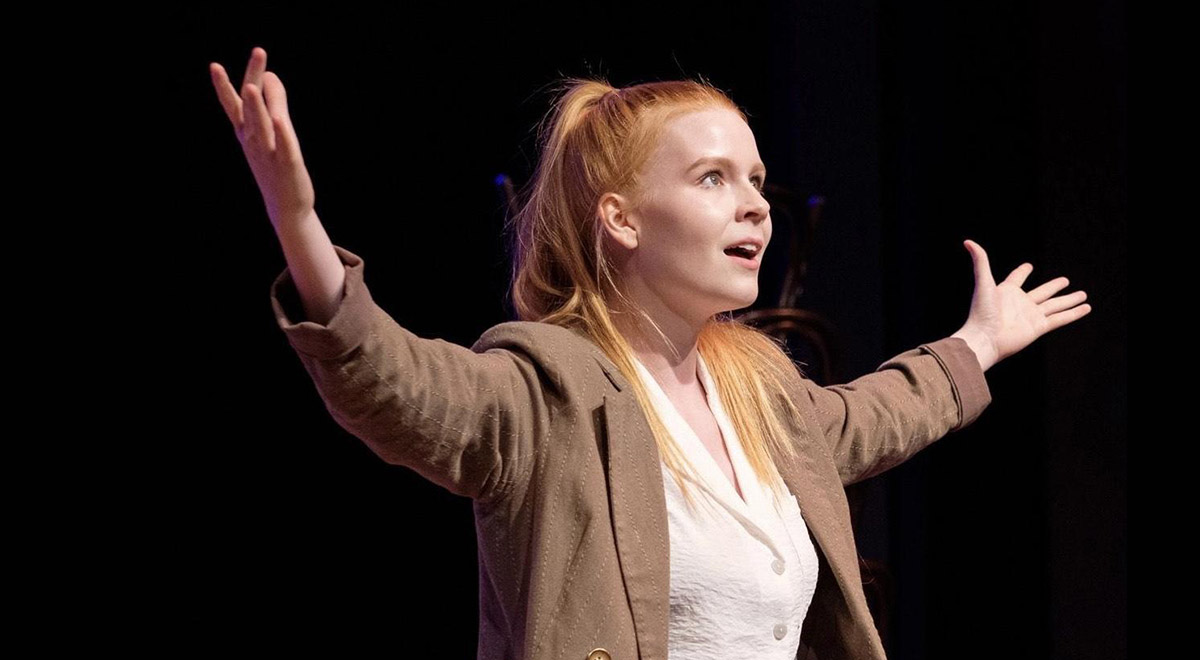 Former St John XXIII Catholic College Stanhope Gardens student and Catholic Education Diocese of Parramatta CAPTIVATE creative and performing arts program alumna, Emily Sinclair, is set to make a name for herself on stage and screen after recently graduating from the Actors Centre Australia (ACA).
Emily was part of the CAPTIVATE Drama Hub as a Year 10-12 student and, after completing her HSC, returned to join a cast of past and present students for the world premiere of Cate Whittaker's "Forgotten" at the Riverside Theatres in Parramatta, playing the key role of the convict Jane New.
"CAPTIVATE really helped build my confidence. I think telling stories and being able to share that story with an audience is a magical experience. Training is so important, being able to fill the room," Emily said.
"The CAPTIVATE teachers were so welcoming and encouraging and I made lifelong friends. Drama is a great confidence builder along with building communication skills, imagination and spontaneity. It made me realise that, yes, I can do this."
Following her performance in "Forgotten", which was her first major role in a full-length play on a professional stage, Emily successfully auditioned for the ACA's elite three-year Bachelor of Performing Arts (Stage and Screen) program.
The ACA offers one of the most respected training programs in the country, supported by many of the finest teachers and directors. ACA Patron and alumnus, Hugh Jackman, has been quoted as saying: "I am often asked why Australian actors are doing so well on the international stage and my first response is always that the training we receive is world-class."
After three years of training that helped her to "develop in amazing and profound ways", Emily took to the stage in September 2022 to play the dual roles of Ellen and Lin in a groundbreaking performance of Carol Churchill's "Cloud Nine" as her ACA graduation final performance.
"ACA is a really supportive environment, very encouraging artistically. Getting through two lockdowns taught us to keep our passion alive and focus on creating and devising our own work, such an important skill when leaving drama school. I have really learnt to let go - we are taught to fail gloriously, be bold and trust ourselves," she said.
CAPTIVATE Drama teacher Lucinda Armour remembers Emily's first Drama Hub class.
"She was luminous and remains so. Always hard-working, always willing to take risks. Equally capable in drama and comedy," Lucinda said.
"It's been an absolute pleasure supporting Emily through her school drama journey and beyond. Watching her grow and develop as an artist over these three years at ACA has been a real privilege. Bravo Emily."
As for her future ambitions, Emily shares more with ACA Patron Hugh Jackman than just attending the same drama school: "Movies, musicals, theatre - I would like to be like him and get my hands in everything!"
---
Find out more about the Australian Actors Centre (ACA).
Find out more about CEDP's CAPTIVATE Creative and Performing Arts Program.
01 Mar 2023

We are enrolling now! Attend your local Catholic school's Open Day to find out more.