Skilled up student set for success
21 Jun 2022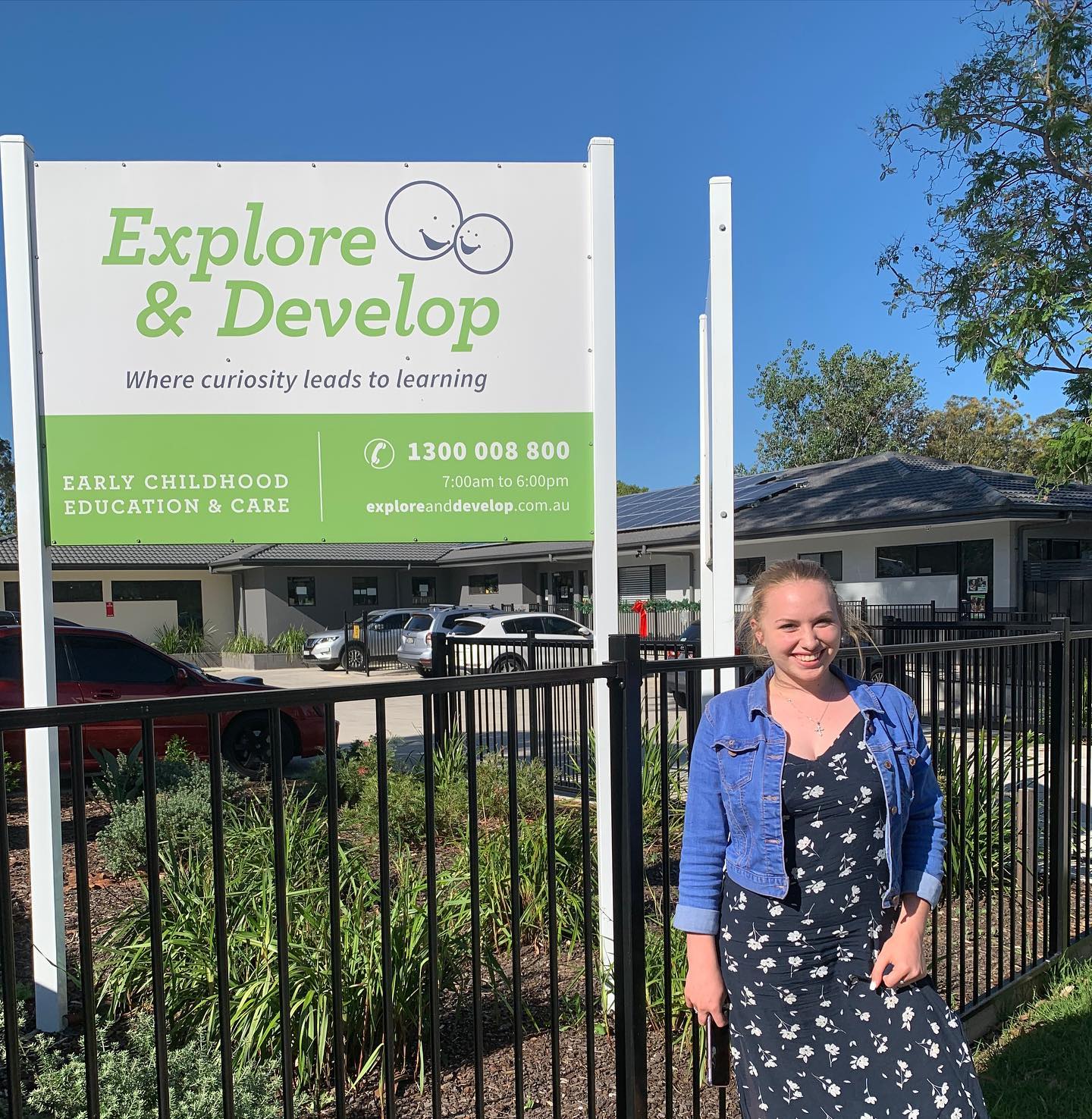 Just months away from her HSC, Year 12 student Lucinda Boreham already has a Certificate III in Early Childhood Education and Care and a Certificate II in Business.
The skilled up CathWest Innovation College student is in the running for the prestigious School-Based Apprentice of the Year Award at the upcoming NSW Training Awards (Western Sydney and Blue Mountains)
Lucinda, who is studying Early Childhood Education and Care, continues the CathWest success story at the Training Awards. With campuses in Emu Plains and Mount Druitt, the College has had five finalists over the past three years. Two of these outstanding students went on to win the School-Based Apprentice of the Year award: Jessica Libreri (2020) and Axyl Grundy (2021).
"I just skimmed through the email and was like, oh my gosh, I'm a finalist! Then I rang mum and told her. It was so exciting," said a very joyful Lucinda reflecting upon finding out she was a finalist.
"I was struggling at my old school but then I discovered CathWest and everything turned around," said Lucinda. "I have been able to get a head start with my career and feel strongly that even if one day I do want to go to university and become a primary teacher, I am better equipped to do so having had so much experience with children, parents and worked in the industry alongside other educators too."
A proud Aboriginal woman and strong advocate for pursuing personal passions, Lucinda wishes to spread her story so that younger students can pursue their dreams.
"I'm from Thunggutti country, which is just north of Kempsey," said Lucinda. "My Nan was part of the Stolen Generation. My Nan has so many stories that I love to hear and I'm going to carry and share those stories with my family for generations to come."
"I am proud of my Aboriginal heritage, the fact that I live and work in western Sydney. I feel ready to face the world because I have experienced much of it already through my studies that are based on real scenarios and applications. I am happy with the choices I have made and would love the opportunity to share my story, inspire others and advocate for the schools like mine where VET is at the heart of successful transitions from school to work."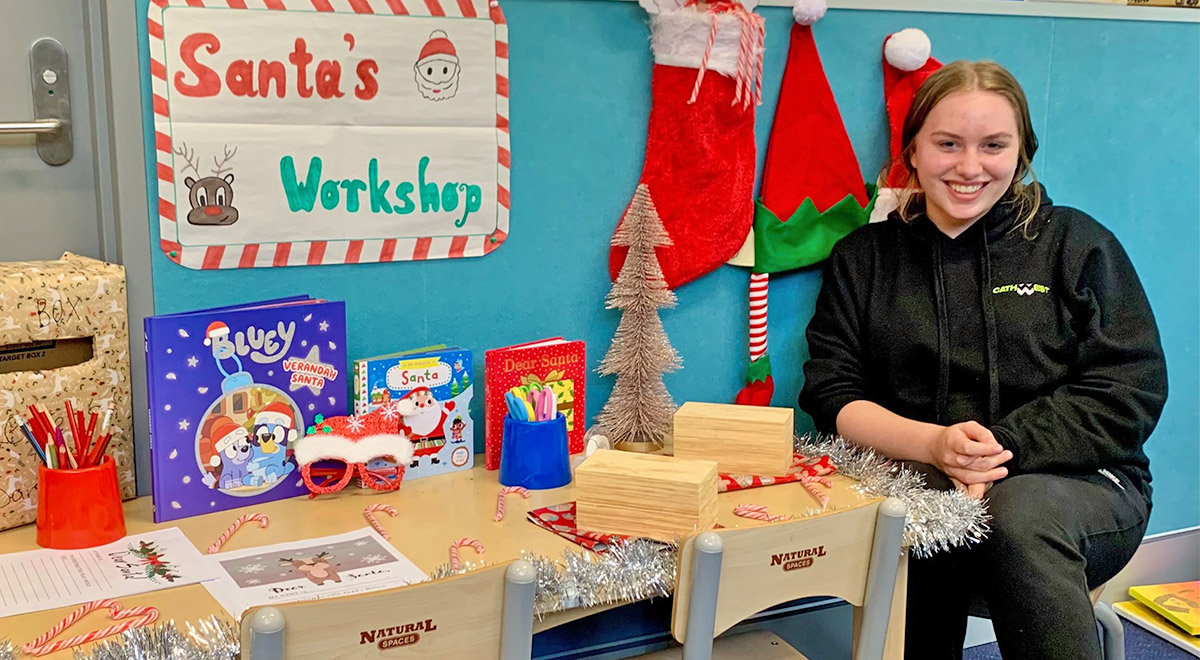 Lucinda, who is a school-based trainee at Explore & Develop Emu Plains, is keen to encourage other students to consider VET as a way of exploring potential career pathways.
"Don't stress about it. Go with what your gut is telling you. Go with your heart", said Lucinda. "Follow your passion and explore options that match what genuinely interests you. Be passionate about exploring different options which is why VET is so great because you get a proper sense for the work and it's not just reading about it in a careers brochure or book."
Inspired by her family, teachers, trainers and mentors, Lucinda is proud to have done so well with her VET studies.
"I am lucky to have grown up in a home where education is valued and encouraged," said Lucinda. "The greatest gift to me has been the support from my family and the teachers at CathWest who have believed in my abilities and allowed me to pursue my dreams without judgement."
"Lucinda presents as a young person whose interpersonal skills are beyond her years", added Sally-Anne Martin, Early Childhood Education and Care Teacher at CathWest Innovation College.
CathWest Innovation College supports all its students with individual mentors who help guide them as they explore pathways for developing skills and qualifications.
"One of the great things about CathWest is the fact that we are more mentors than teachers," said Lucinda's mentor and Commercial Cookery/Hospitality Teacher Craig Brissett. "We walk alongside our students instead of telling them what to do. We're there to help them explore their passions and develop the learnings that will put them in a good place to succeed when they leave school. It's a great place to work. It makes it easy when you've got great students like Lucinda who have that passion and drive".
Having been named Small Provider of the Year at the Australian Training Awards in 2019, Catholic Education Diocese of Parramatta is proud to be a leader in Vocational Education and Training. In addition to Lucinda's nomination, Catherine McAuley Westmead secured a hat-trick of finalists with Holly Zacaria, Macy Smith and Daniella Ostojic all in the running for the VET in Schools Student of the Year award.
11 Oct 2022

The 2022 Conference will provide a unique opportunity for people to explore effective and culturally appropriate strategies and current practices targeted towards 'Closing the Gap' in educational outcomes for Aboriginal and Torres Strait Islander children and young peoples.

22 Feb 2022

We are enrolling now! Attend your local Catholic school's Open Day to find out more.

12 Dec 2021

Choosing a school and don't know where to start? Download School Selection Made Simple to help you choose a great local learning community to support your child's learning journey.