Catherine McAuley trio in the business of success
22 Jun 2022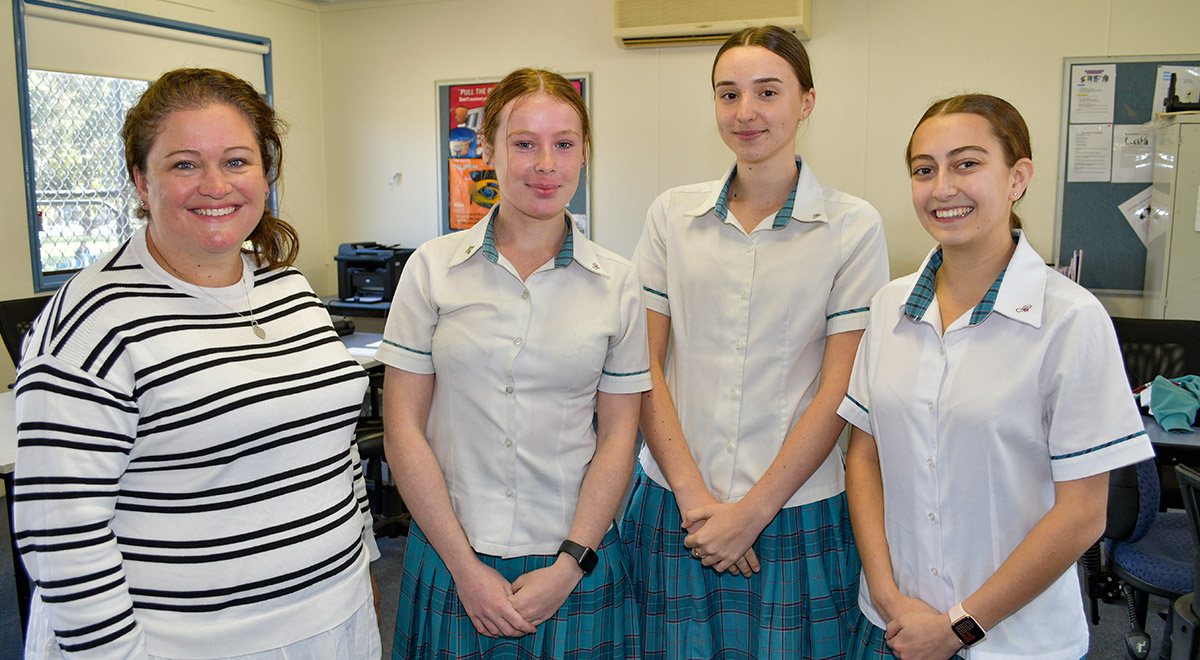 Catherine McAuley Westmead VET Teacher Taryn Grima with (left to right) Macy, Daniella and Holly who are finalists for VET in Schools Student of the Year
Catherine McAuley Westmead is celebrating the success of its Vocational Education and Training program after three of its students were named finalists for the prestigious VET in Schools Student of the Year award at the NSW Training Awards (Western Sydney & Blue Mountains).
"VET has continued to grow in popularity every single year," said Taryn Grima, Catherine McAuley Westmead VET Teacher. "We increased the number of classes to three last year and another three have been added this year. We're finding that the students are incredibly engaged with VET. They love that they're getting a head start with their future careers with the skills they're developing."
Holly Zacaria, Macy Smith and Daniella Ostojic all study Business Services at Catherine McAuley and while only one can take home the title at Friday's awards at Warwick Farm, all three have already achieved even greater success in respect to the skills and qualifications they've secured through their studies.
"I used to work in HR and in particular recruitment and training and so many times I would be filling entry level jobs and I'd be looking at the calibre of students leaving uni," explained Taryn. "They might have a degree but they don't actually have those personal skills, communication skills. That's why I love VET in Schools because we have the opportunity to prepare them for life after school with these key skills, whatever they want to do."
"VET is great," added Macy. "You still need to focus on school and your HSC and ATAR but this really looks at what you're going to do after school and teaches you such valuable life skills. A lot of the skills are also helping me do better at school."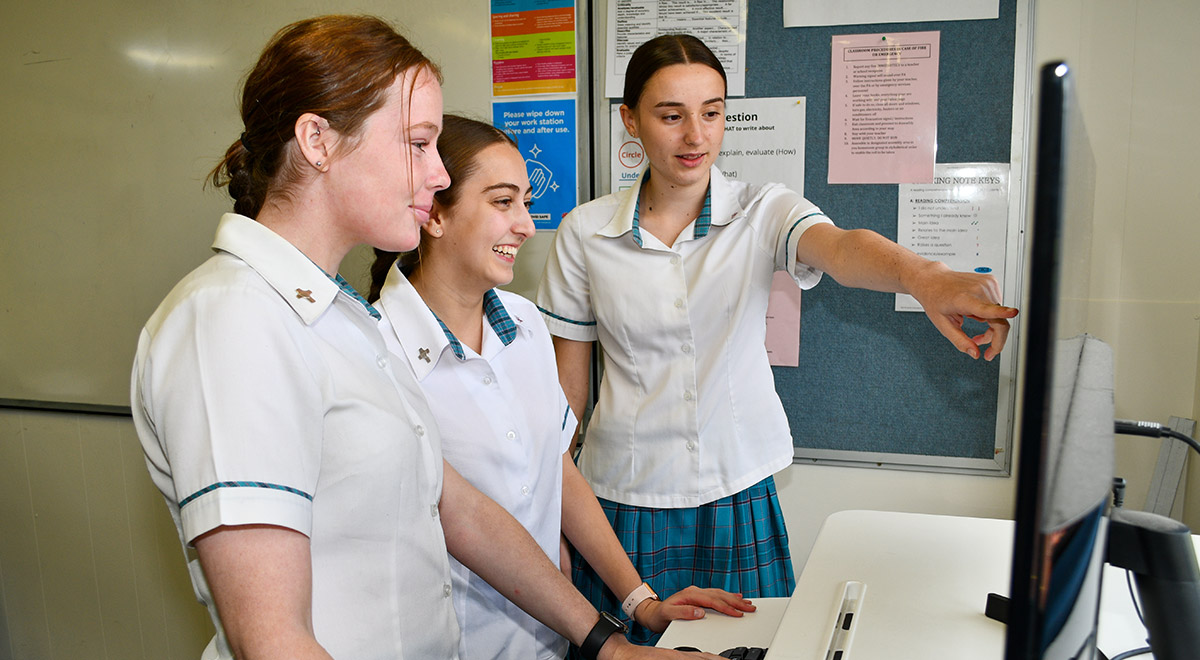 Holly, Macy and Daniella have done exceptionally well in their Business Services course
Helping students develop valuable transferable skills is increasingly being highlighted as a reason for the growth in popularity of studying VET in school.
"There are so many valuable skills we get from VET courses," said Holly. "A big one is communication. It's really important not only in business services but VET courses as a whole. We're learning to communicate with customers, communicate within the business environment, with employees and employers and suppliers. These skills are certain to help me in the future, whatever career I end up in."
As they look ahead to the HSC later this year, all three students said another significant benefit of VET was the improvements they saw in their schooling.
"I've gained life long skills that I will not only be able to use within the business environment but in my everyday life," said Daniella. "This course has allowed me to see all of my studies in a different light and it has really changed my approach to school in general. I have been very motivated to use those skills as well as work harder in my other subjects."
"All three of these students have shown great enthusiasm and eagerness to put their skills and knowledge into practice," said Catherine McAuley Westmead teacher Lisa Williams.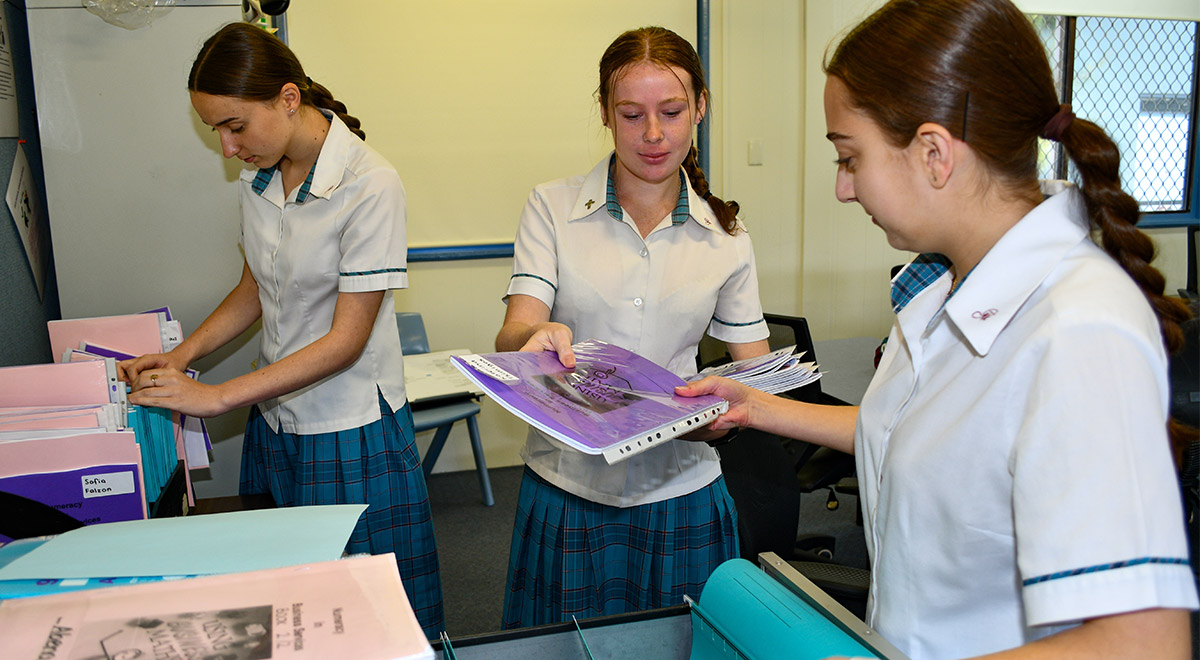 The students feel the skills they pick up through the VET course has really helped them with other classes and work at school
The three students were quick to praise the Catherine McAuley VET teachers who have had a big impact on teaching them the skills that have prepared them for life after school.
"I did work placement at a welding business," said Daniella. "I was in the office doing all the admin and it was a real shock, a good shock to realise I was already capable of doing all the work thanks to what I'd been learning in my course. It was a great experience and has given me lots of confidence that I can do this after school."
"My work placements really reinforced that I wanted to go far with business services," said Holly. "I love the organisation that comes with the business environment and the office setting and I know I can do well.
Their teachers expressed how impressed they were with the dedication shown by the trio, especially considering the impact of the COVID pandemic over the past few years.
"Holly was one of the few students able to achieve the full 70 hours of work placement in a difficult year," said Taryn. "Both work placements resulted in outstanding feedback and one included an invitation to seek part-time work following her studies."
"In a difficult year of lockdown, Macy was able to still complete two separate work placements in 2021 (the full 70 hours) where she developed a range of skills and was able to apply the skills she has learned throughout the course," said Taryn. "One of the placements was at the Gladesville Police Station where she received high praise for her organisation and business services skills."
"Daniella has shown great courage, resilience and perseverance," said Taryn. "She was the first student in the class to complete the typing component and achieve her certificate at industry standards."
---
Learn more about Catherine McAuley Westmead
Learn more about Vocational Education
11 Oct 2022

The 2022 Conference will provide a unique opportunity for people to explore effective and culturally appropriate strategies and current practices targeted towards 'Closing the Gap' in educational outcomes for Aboriginal and Torres Strait Islander children and young peoples.

22 Feb 2022

We are enrolling now! Attend your local Catholic school's Open Day to find out more.

12 Dec 2021

Choosing a school and don't know where to start? Download School Selection Made Simple to help you choose a great local learning community to support your child's learning journey.