Students use STEM to solve real-world problems
11 Aug 2022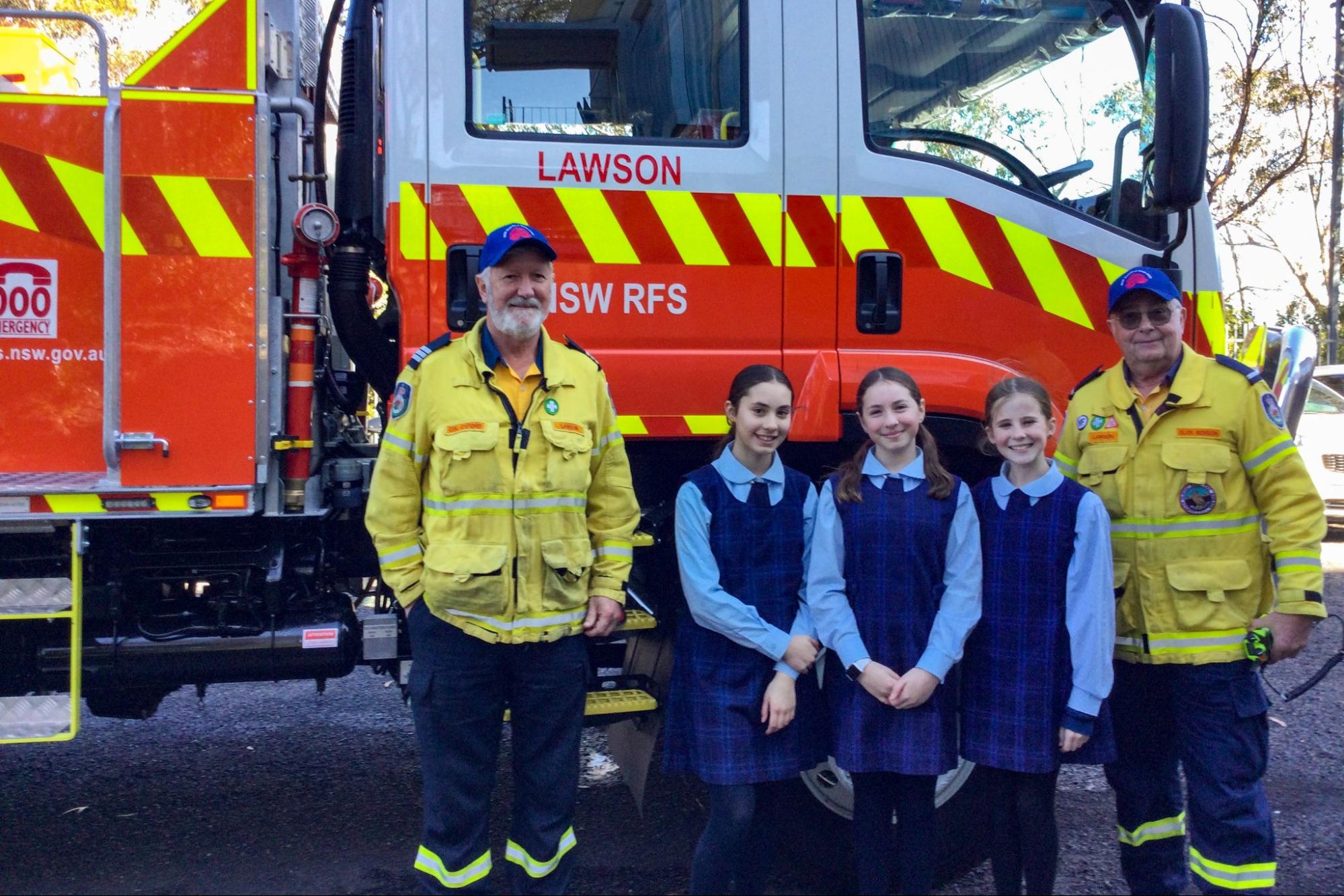 Students are aspiring to transform the future of Science, Technology, Engineering, and Mathematics (STEM) and make a difference in the world through some inspired projects for the annual Catholic Education Diocese of Parramatta (CEDP) STEM MAD Learning Showcase.
Four exceptional projects were selected to be presented at the National STEM MAD showcase at the National Catholic Education Commission Conference in Melbourne in September.
Fourteen schools and more than a hundred students were involved in creating twenty-five amazing projects which they presented in front of each other, teachers and the judging panel at the all-day CEDP STEM MAD showcase.
"Students are finding that they're going to be left with a world where they're going to have to be really good problem solvers and so I think STEM learning goes a long way to providing them with those skills," said Paul Stenning, Head of Mathematics and Science.
The program is a chance for students to develop innovation, creative thinking and problem-solving skills and come up with ideas and concepts that could make a real difference in the world.
"The most outstanding part was that the students really thought about issues that were important to them and to their local community," said Paul. "STEM is critical in allowing students the process to find solutions to those problems".
Projects included a new module for the International Space Station (St Aiden's Primary Rooty Hill), a robot to collect excess litter at school (St Michael's Primary Baulkham Hills), the 'Octograb' which removes plastic from our oceans (Our Lady of Mount Carmel Primary Wentworthville), one that aims to clean up rubbish in space (Marian Catholic College Kenthurst), a drone that helps ease traffic congestion (Santa Sophia Catholic College Gables) and many more.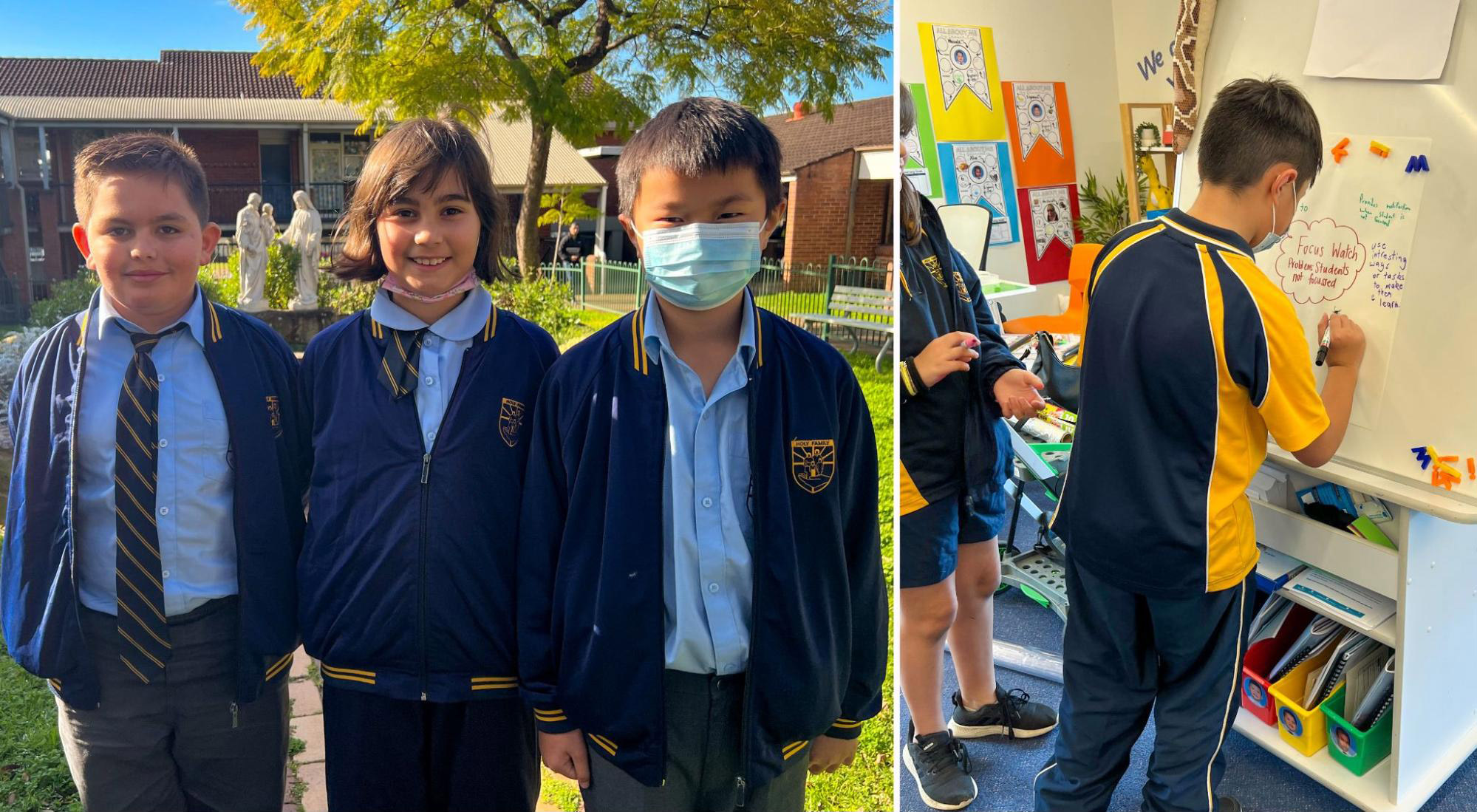 Students from Holy Family Primary East Granville designed a watch to help students focus in class. "The best part was working with new resources I didn't even know about before!" said Joel.
"We are so proud of the time and effort our students contributed to these projects," said teachers Josie Lianos and Stephen Bawden. "Their ability to see a problem and find creative solutions that relate to and benefit other children was amazing. The students are looking forward to their next steps!"
Students from Good Shepherd Primary Plumpton acted for justice and the common good by designing a prototype called the 'Water Wall', a wall that surrounds houses in flood-affected areas and automatically rises when sensing a flood.
"One thing that I learnt through my research was that people who experienced flooding this year in NSW really suffered," said Year 5 student Aahana.
"Our idea is going to help people by having a safety precaution installed underground before a flood occurs, in an attempt to stop structural damage to people's homes", added classmate Taiuli.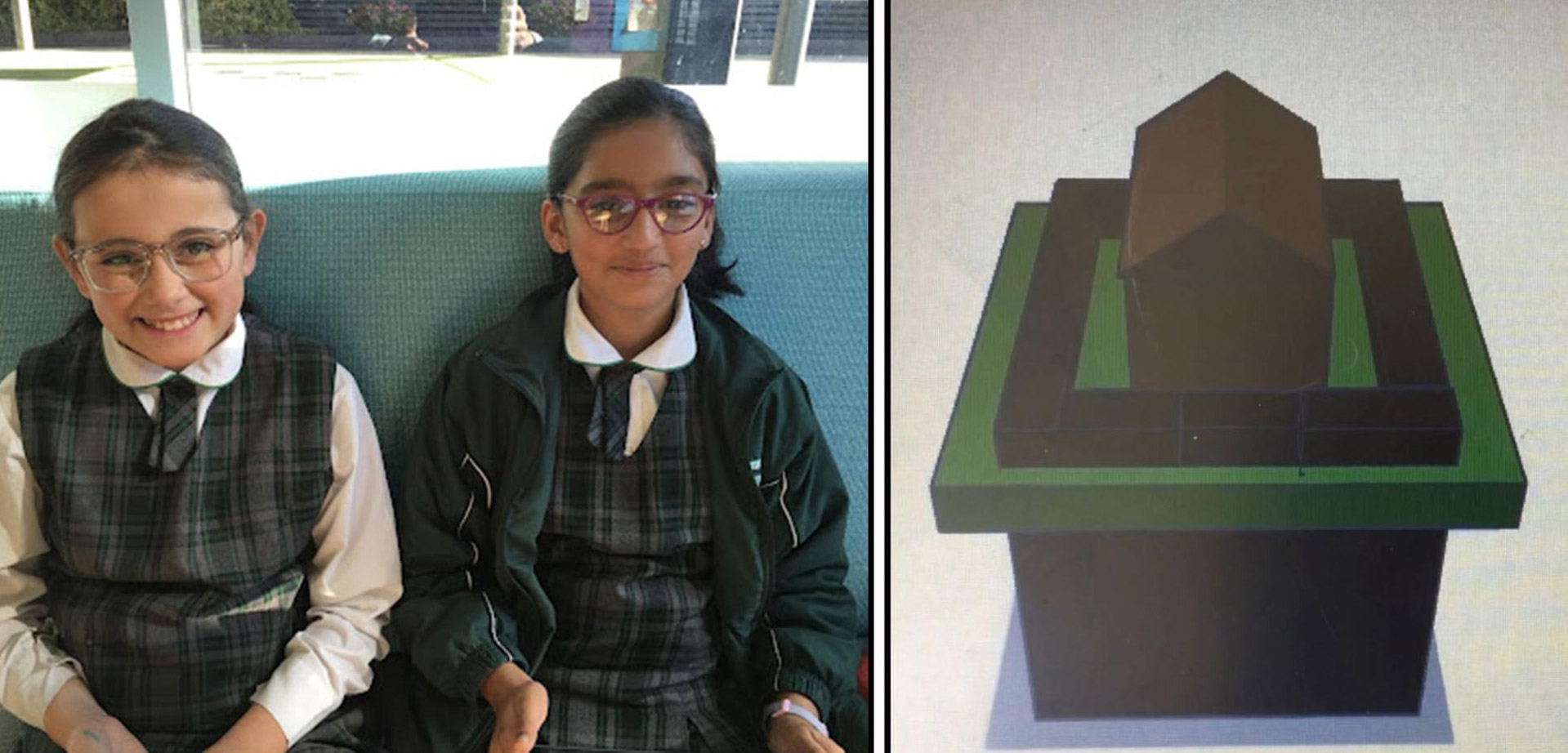 From the 25 projects presented at CEDP STEM MAD, the judges selected four exceptional projects to be presented at the National STEM MAD showcase.
Polly, Clodagh and Audrey's project from Our Lady of the Nativity Primary Lawson was one of those selected. Their 'Fight the Flames App' is an interactive app designed to educate and prepare children for bushfires.
"In the Blue Mountains, we are very used to bushfires but as kids we don't have the knowledge we need to be able to prepare for a bushfire or know what to do when actually faced with an emergency situation," said the students. "This app has quizzes and games that contain the information needed and we hope kids will remember what to do when faced with a bushfire."
The students spent a considerable amount of time on the app's development and even contacted the NSW Rural Fire Service (RFS) to visit the school and provide professional advice on bushfire information and prevention.
"I am so proud of the team and their commitment to the project," said Teacher and Librarian Maree Crawford. "The girls learnt how to code an app on MITAppinventor2 and spent so many hours working on their project. They collaborated together at school, during out of school hours and even during their holidays.".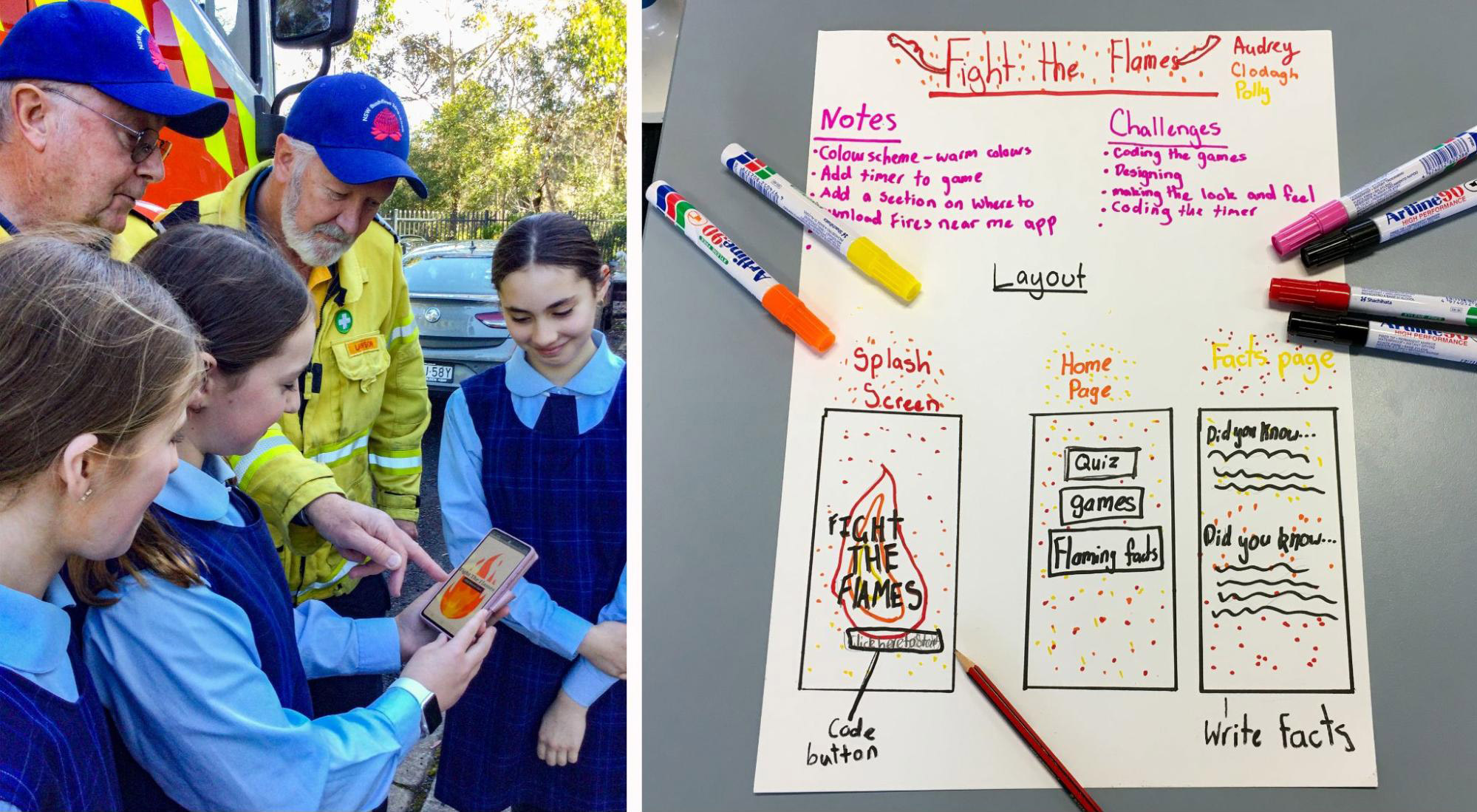 Students from St Angela's Primary Castle Hill were also selected as finalists with their idea of the 'AutoBin', a teachable machine that automatically sorts waste into correct bins in order to improve waste management.
"The best part of the experience was working together with the group, making the models and using different materials and applications," said Year 6 students Jesselyn, Kem, Marcus, Gia and Anabelle. "We also enjoyed discovering new things together including learning about each other."
"They showed dedication working in class, through lunch breaks and after school to ensure they created an engaging video using technology in many different ways," said Teacher Tahlee Simpson. "We are all extremely proud of their efforts and are very excited to be heading to the National STEM MAD Showcase in Melbourne. What a fantastic achievement!"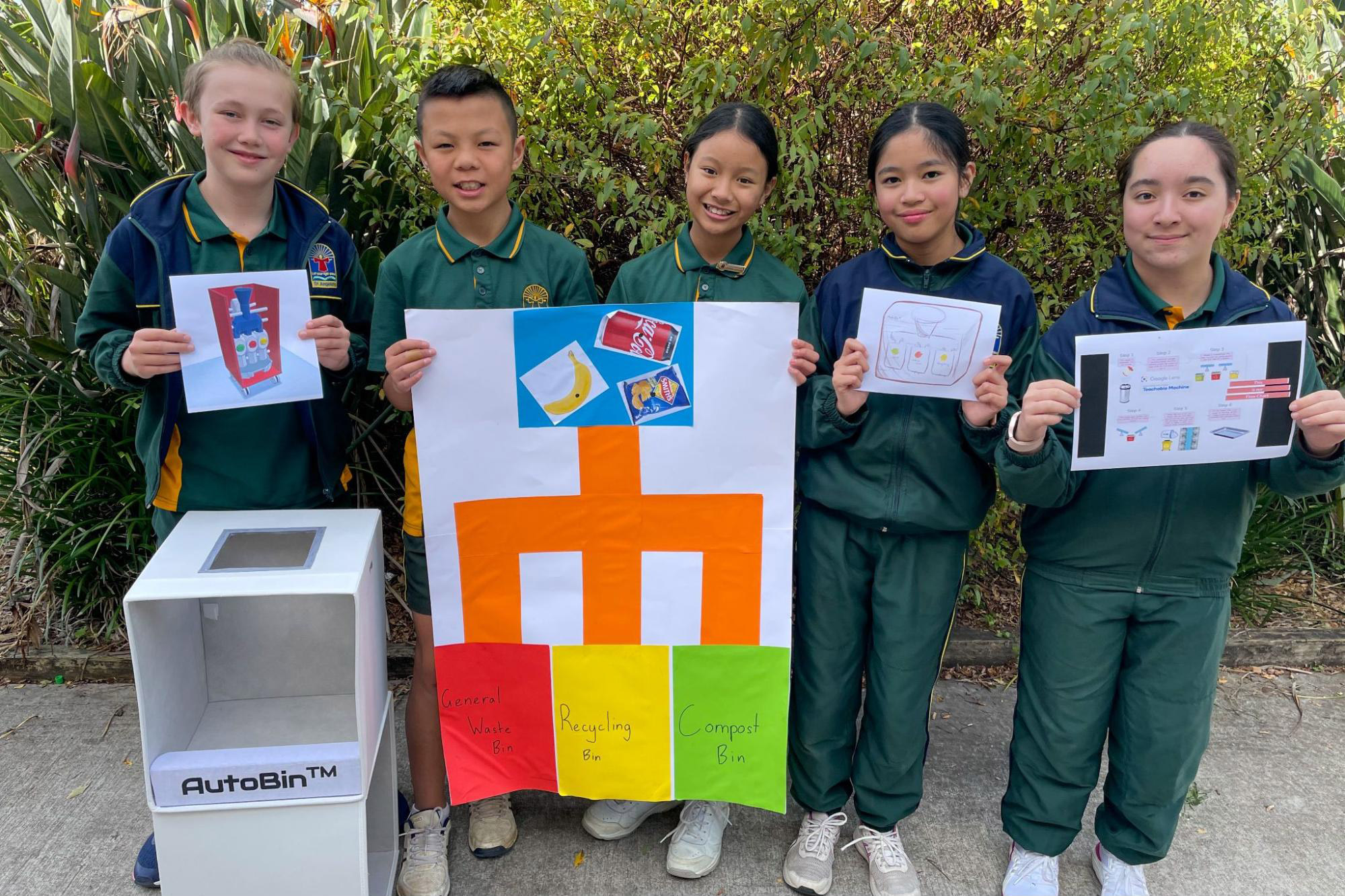 Catherine McAuley Westmead produced two outstanding finalists for the national showcase. Students Shivali and Luis developed an idea called 'Eco Air', where they identified specialised plants for an indoor vertical garden that could substitute the use of air purifier machines and decrease e-waste.
"They were two amazing projects from Catherine McAuley," said Paul Stenning. "Finding out which plants would filter oxygen the best was an outstanding example of science in action and how scientists actually have to create their own technological solutions."
Year 11 student Ashyra used her knowledge from her School of Now subject, Engineering Studies, and teamed up with the Jarara Aboriginal and Torres Strait Islander Education Unit team to design and engineer totems for schools to enhance their cultural awareness and understanding.
"To go from the artwork to the CAD (computer-aided design) drawing to actually getting the artefacts made, there's that STEM pipeline and understanding, but it's the reason behind it which is the most compelling, which is that cultural awareness for Aboriginal and Torres Strait Islander peoples," added Paul.
STEM MAD National will be held in Melbourne on Tuesday 6th September 2022 as part of the National Catholic Education Commission (NCEC) Conference.
10 Oct 2022

Choosing a school and don't know where to start? Download School Selection Made Simple to help you choose a great local learning community to support your child's learning journey.