TV star Brooke Boney illuminates education Conference
24 Oct 2022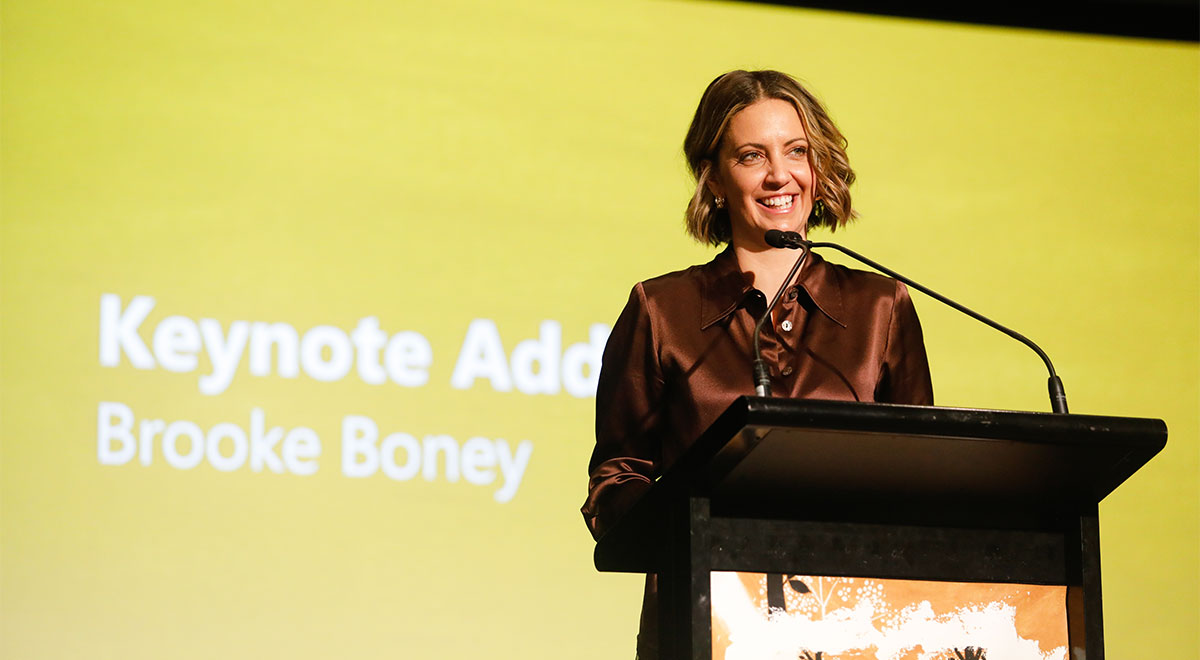 Channel 9 TODAY entertainment reporter Brooke Boney recently made a keynote address to more than 500 educators from across NSW who gathered in the Blue Mountains for the Aboriginal and Torres Strait Islander Catholic Education State Conference.
This powerful event, focused on Closing the Gap in education outcomes for Aboriginal and Torres Strait Islander students, was hosted by Catholic Schools NSW together with Catholic Education Diocese of Parramatta.
Brooke shared her journey as a young Aboriginal woman working in the media. Through an interview with Josh Sly from Catholic Education Diocese of Parramatta's Jarara Indigenous Education Unit, Brooke also responded to reflections from Aboriginal and Torres Strait Islander students from Catholic schools across NSW who spoke about their Country, cultural identity, experiences and education.
Now one of the most popular personalities on Australian morning television, the proud Gamilaroi Gomeroi woman had to overcome poverty, racism and generational trauma on her way to fulfilling her dream of working as a journalist.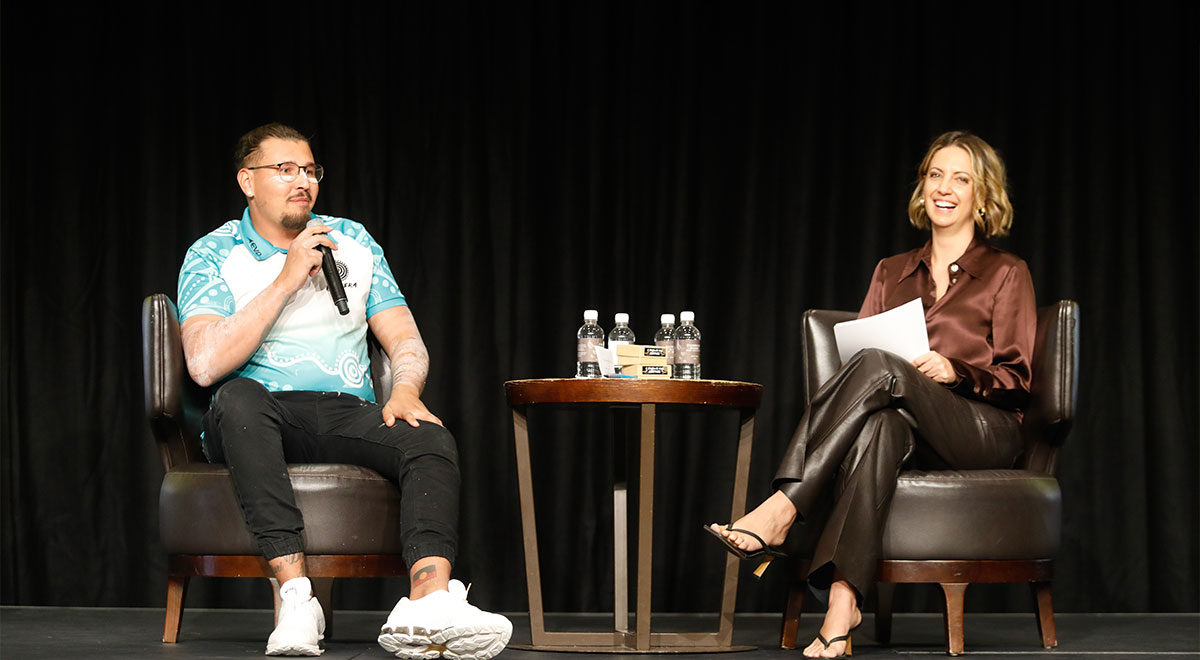 "I didn't finish high school. I had a really tough time, found it hard to find my place," Brooke told delegates. "When you are young, you think the colour of your skin is the root of all your problems."
Brooke described how her grandparents initially grew up on missions where the children hid when a car arrived so they wouldn't be taken away and basic amenities such as clean water, electricity, sealed roads and access to medical care were not guaranteed. Her grandparents later settled in Musselbrook in order to give their family the best chance in life because "they saw what the future held for us, and it wasn't bright".
After securing a cadetship with the ABC, Brooke felt that she would finally make something of her life. But her early days working in the media were tainted by racism. On one occasion she was told that "no one expects much of you because you are Aboriginal". While admitting that comments like this hurt deeply, Brooke felt they most often stemmed from ignorance and the unfounded belief that supporting Indigenous Australians would somehow negatively impact non-Indigenous people.
"What people like that don't get is that helping one group of people doesn't mean other people get less of the pie," Brooke reflected passionately. "Research shows that when you include people who are different from you the pie gets bigger."
Despite her negative experiences, Brooke thinks that we have come a long way as a nation, saying "my grandparents wouldn't have even been allowed in Parliament House or to vote. Two generations later I can travel with the PM as part of my job". But there is still much more work to do and it's important to start with the younger generation while deliberately not avoiding acknowledging the past.
"When it gets tough I like to think of the men and women who came before us who somehow found the strength to push for what they thought was right. We have a responsibility to do the same for the generations who come after us," she said.
"We should be reminded of where we have come from so that we never go back there again. We have the future in our hands. It is about being a leader in every part of your life in every part of your day."
Brooke believes it is incredibly important for Indigenous people to be represented in the media and other high-profile industries, both from a truth-telling perspective and to demonstrate to Aboriginal and Torres Strait Islander children and young people that they can achieve anything they set their minds to.
"One of the reasons I wanted to be a journalist was because stories about black fellas were always negative and without any context. If that is all you are seeing, then eventually that is what you start to believe. I wanted to get involved in that storytelling so I could help people understand the context."
But she cautioned against holding individuals up as trailblazers as it can overshadow the long history of courageous and pioneering words and actions of past generations of Indigenous people.
"Being put on a pedestal as the first Indigenous person to do things is problematic as well. My experience is a product of everything that has happened over the last 200 years. I stand on the shoulders of those who have come before me."
As a young person who took a long time to find her path, Brooke said her "heart goes out to students today trying to figure out where they fit". She encouraged educators not to put too much pressure on Indigenous students to automatically take on the role of cultural leader in their school.
"We can't assume that someone has that relationship with culture. It can be really difficult and uncomfortable to ask them about their culture and a lot of these kids would still be unpacking it. It's really important to acknowledge that these kids don't have all the answers."
Brooke said it was also important for educators to be patient with Indigenous students and understand that there may be complex reasons why they might not find it easy to fit in or act in a certain way at school. Many students can feel like they are walking in two worlds, especially those who don't fit the stereotype of what people think an Aboriginal or Torres Strait Islander person should look like. In Brooke's view, encouragement, understanding, deep listening and the creation of a sense of belonging are key to unlocking the great potential in these students.
"It doesn't take much to be the reason that someone wants to quit their dreams. If there are obstacles to people achieving their dreams, let's remove them. Let's be the reason people fulfil their potential."
08 Sep 2023

Apply for the 2024 Teacher Scholarship Program today. Applications close Monday, 9 October 2023!

06 Nov 2023

This event will allow high school students and graduates the opportunity to have conversations and coaching sessions with experts from their desired field.